Introduction
ASUS was very kind and sent us two of their ARES monster graphics card for testing in CrossFire. With a price of around $2000, such a setup can only be achieved by anyone with deep pockets and a deep love for technology. If you haven't done so yet, please check out
the single card review
first, as this review will only focus on the CrossFire combination of the ARES.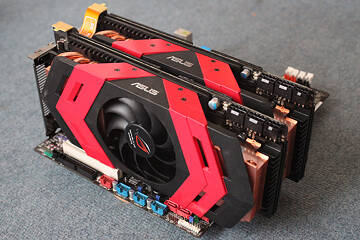 Two of these beautiful babies basically cover the whole slot area of your motherboard, each taking three slots for a total of six. If you take another look, check out the massive number of power connectors required. A total of four 8-pin and two 6-pin power cables are sure to provide enough juice to the system for even your wildest overclocking dreams.
In this review we will investigate the performance of two ARES cards, but we will also take a look at possible upgrade paths involving the ARES. For example, if you have already have a HD 5970, how much can be gained from adding ARES to that? What if you come from a HD 5870?
Test System
Test System
CPU:
Intel Core i7 920 @ 3.8 GHz
(Bloomfield, 8192 KB Cache)
Motherboard:
Gigabyte X58 Extreme
Intel X58 & ICH10R
Memory:
3x 2048 MB Mushkin Redline XP3-12800 DDR3
@ 1520 MHz 8-7-7-16
Harddisk:
WD Raptor 740ADFD 74 GB
Power Supply:
akasa Power Xtreme AK-P120FG-BK 1200W
Software:
Windows 7 64-bit
Drivers:
NVIDIA: 195.62
GTX 470 & 480: 257.15
ATI: Catalyst 10.3
Display:
LG Flatron W3000H 30" 2560x1600

All video card results were obtained on this exact system with the exact same configuration.
All games were set to their highest quality setting
Each benchmark was tested at the following settings and resolution:
1024 x 768, No Anti-aliasing. This is a standard resolution without demanding display settings.
1280 x 1024, 2x Anti-aliasing. Common resolution for most smaller flatscreens today (17" - 19"). A bit of eye candy turned on in the drivers.
1680 x 1050, 4x Anti-aliasing. Most common widescreen resolution on larger displays (19" - 22"). Very good looking driver graphics settings.
1920 x 1200, 4x Anti-aliasing. Typical widescreen resolution for large displays (22" - 26"). Very good looking driver graphics settings.
2560 x 1600, 4x Anti-aliasing. Highest possible resolution for commonly available displays (30"). Very good looking driver graphics settings.
BattleForge
BattleForge
, a card based RTS, is developed by the German EA Phenomic Studio. A few months after launch the game was transformed into a Play 4 Free branded game. That move and the fact that it was included as game bundle with a large number of ATI cards made it one of the more well known RTS games of 2009. You as a player assemble your deck before game to select the units that will be available. Your choice can be from forces of Fire, Frost, Nature and Shadow to complement each other.
The BattleForge engine has full support for DX 9, DX 10 and DX 10.1, we used the internal benchmark tool to acquire our results.