Introduction

NVIDIA's GeForce GTX 980 Ti was released in June last year. Built on the same GM200 GPU as the GeForce Titan X, it has fewer shaders (2816 vs 3072). While the GTX 980 Ti's GPU is still produced on a 28 nanometer process at TSMC in Taiwan, it comes with the fantastic power efficiency optimizations of the NVIDIA Maxwell architecture, which promises lower power draw, higher performance, and reduced fan noise all at the same time.
Our review of the reference design GTX 980 Ti revealed that it is barely slower than the Titan X, which means custom designs could surpass Titan X performance at a much lower price point.
Today, we are reviewing the ASUS GTX 980 Ti Matrix flagship card, which is geared towards gamers, enthusiasts, and hardcore overclockers. The Matrix competes with cards like the MSI Lightning and EVGA Kingpin Edition. ASUS has overclocked their card's GPU to a base clock of 1216 MHz and its memory to 1800 MHz.
A large dual-fan, triple-slot cooler ensures the ASUS GTX 980 Ti Matrix stays cool at all times, and hopefully quiet as well.
At $720, pricing is high, so let's see if its cost is justified.
GeForce GTX 980 Ti Market Segment Analysis
GeForce
GTX 970
Radeon
R9 290X
Radeon
R9 390X
GeForce
GTX 780 Ti
GeForce
GTX 980
Radeon R9
Fury
Radeon R9
Fury X
GeForce
GTX 980 Ti
ASUS GTX 980
Ti Matrix
GeForce
GTX Titan X
Radeon
R9 295X2
Shader Units
1664
2816
2816
2880
2048
3584
4096
2816
2816
3072
2x 2816
ROPs
56
64
64
48
64
64
64
96
96
96
2x 64
Graphics Processor
GM204
Hawaii
Hawaii
GK110
GM204
Fiji
Fiji
GM200
GM200
GM200
2x Hawaii
Transistors
5200M
6200M
6200M
7100M
5200M
8900M
8900M
8000M
8000M
8000M
2x 6200M
Memory Size
4 GB
4 GB
8 GB
3 GB
4 GB
4 GB
4 GB
6 GB
6 GB
12 GB
2x 4 GB
Memory Bus Width
256 bit
512 bit
512 bit
384 bit
256 bit
4096 bit
4096 bit
384 bit
384 bit
384 bit
2x 512 bit
Core Clock
1051 MHz+
1000 MHz
1050 MHz
876 MHz+
1126 MHz+
1000 MHz
1050 MHz
1000 MHz+
1216 MHz+
1000 MHz+
1018 MHz
Memory Clock
1750 MHz
1250 MHz
1500 MHz
1750 MHz
1750 MHz
500 MHz
500 MHz
1750 MHz
1800 MHz
1750 MHz
1250 MHz
Price
$290
$300
$400
$390
$470
$520
$630
$620
$720
$1000
$620
Packaging
Contents
You will receive:
Graphics card + driver CD
Documentation
2x PCIe power cable
The Card
The Matrix is a huge card—just look at how far it extends beyond the PCIe slot cover! When looking at the front, you'll see a slightly new color theme that consists of large areas of silvery paint (the cooler is made out of plastic) with orange highlights. A sturdy metal backplate is included as well. Dimensions of the card are 30.0 cm x 14.5 cm.
Installation requires three slots in your system.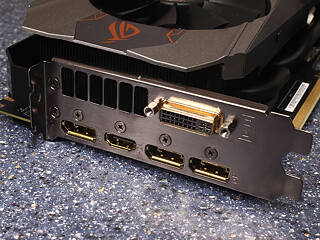 Display connectivity options include one DVI port, one HDMI port, and three DisplayPorts.
The GPU also comes with an HDMI sound device. It is HDMI 2.0 compatible, which supports HD audio and Blu-ray 3D movies.
You may combine up to four GTX 980 Ti cards in a multi-GPU SLI configuration.
Pictured above are the front and back, showing the disassembled board. High-res versions are also available (
front
,
back
).