Introduction
ASUS released the Gladius II Wireless a while ago, which was the first 2.4 GHz mouse on my test bench that could compete with Logitech's Lightspeed technology in terms of wireless response time. It was time for another such model, and the company revealed the ROG Strix Carry at CES 2019 back in January. This is basically a tiny Gladius, so it's a right-handed gaming mouse, and as its name and dimensions might suggest, it's pretty much built for people who take their mice with them on their travels a lot. It has a PixArt PMW3330 optical sensor, which is a top-tier tracking unit. The mouse operates with 2 AA batteries and can be used on 2.4 GHz or via Bluetooth. The Carry also has one of the best features among gaming mice, which is the company's unique switch-socket design. This means the main switches can be swapped out within seconds without disassembly and soldering. This is a huge plus given how fast micro switches can fail nowadays.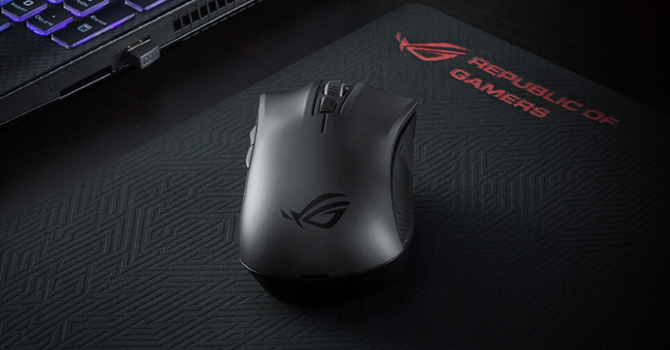 Specifications
ASUS ROG Strix Carry
Size:
101 mm x 62 mm x 36 mm
Size (inches):
3.98" x 2.44" x 1.42"
Ambidextrous:
No
Weight:
72.9 g (2.57 oz) without batteries
Number of Buttons:
6
Main Switches:
Omron D2FC-F-K & Omron D2F-01F
Wheel Encoder:
Kailh gray core (10 mm)
Sensor:
PixArt PMW3330
Resolution:
50–7,200 CPI
Polling Rate:
125–1000 Hz
Cable:
None
Software:
ASUS ROG Armoury
Price:
74.99$
Warranty:
2 years
Packaging
Even though the ROG Strix Carry is a very small mouse, its packaging is of regular size, which is mainly because it comes with quite a lot of extras. For starters, we get the mouse itself inside a very handy, padded travel pouch. There are also 2 AA batteries, a set of tweezers, two extra main switches, and a 3D ROG sticker. Even though a rich set of extras, a set of replacement mouse feet is missing, which is a pity.