A Look Inside
It's time now to strip this NAS down to discover what components it hides inside its casing. It was very easy to crack this NAS open since I only had to remove two screws at the back. Asustor obviously made it easy to open because you have to install the HDDs into a metal cage inside the NAS.
Although it was very easy to remove the plastic enclosure, it wasn't as easy to take the mainboard out of the chassis. We had to remove the metal HDD cage and metal plate that covers the mainboard.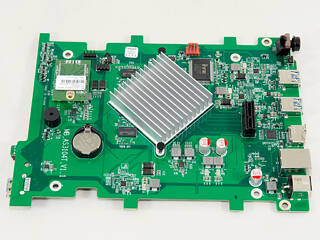 The small mainboard is under-populated, and a pretty large area is taken up by the CPU's heatsink.
The mainboard's obverse side only holds the memory modules, which are soldered into place, and a small number of ICs.
Eight
Samsung K4B2G1646Q-BYK0
modules are soldered to the front and rear of the mainboard.
The UEFI BIOS is provided by Insyde Software.
The NAS uses an
Intel N3050
dual-core Celeron processor with 2MB of cache. The CPU boosts up to 2.16 GHz, is compatible with Intel's Virtualization Technology, and supports the AES-NI instructions set, which its predecessor, the J1900, didn't support. This CPU belongs to the Braswell family, Bay Trail's successor. The N3050 includes a DirectX 11.2 compatible GPU, a DDR3L controller that supports up to 8 GB of memory, and is manufactured on a 14 nanometer lithography process. With a TDP of only 6 W, it doesn't require active cooling.
The CPU is powered by a 2-phase buck regulator, and the filtering caps are by CapXon.
A Texas Instruments
SN75DP139
controller provides compatibility with the HDMI 1.4b standard. To put it simply, this IC takes the DisplayPort's input signal and transforms into an HDMI output signal with support for up to 4K resolutions and 3D content.
The monitoring IC is an ITE IT8728F.
The single Gigabit Ethernet port is controlled by a Broadcom BCM57781 IC.
There is a Macronix
MX25U6435F
Serial Flash module.
The SATA expansion card occupies the mainboard's only PCIe slot.
Here is the small PCIe expansion card that hosts both SATA connectors.
The NAS server's flash memory is by ADATA.
The fan is by YS Tech, and its model number is FD127025HB (70 mm, 12V, 5000 RPM, 40.5 CFM, 41 dBA). The manufacturer states that this fan uses double ball-bearings and has a lifetime of up to 75,000 hours.