Introduction
Last year AMD released their new Radeon HD 5800 Series of graphics cards which quickly became a big success due to the numerous improvements made over previous generations. Over the course of the last months AMD has completed their DirectX 11 lineup quickly, the Radeon HD 5670 was unveiled on Jan 14. It is based on AMD's Redwood graphics processor which is made in a 40 nm process at TSMC Taiwan.
HD 5670 cards can be found around a $100 price point, which is a tough market that is crowded with other cards like the GeForce GT 240, 9600 GT and 9800 GT. AMD's own products here are HD 4770, HD 4830 and HD 4850.
AXLE, who is one of the few companies to make both NVIDIA and ATI cards, has designed a HD 5670 that uses a custom PCB design and own cooling solution. One major product highlight is certainly the 1 GB of GDDR5 memory, which is twice that of the reference design which comes only with 512 MB. Another interesting aspect is the cooler, which uses a fan by Arctic Cooling who provide low-noise, high-performance coolers.
Radeon
HD 4670
GeForce
GT 240
GeForce
9600 GT
Axle Radeon
HD 5670
GeForce
9800 GT
Shader Units
320
96
64
400
112
ROPs
8
8
16
8
16
GPU
RV730
GT215
G94
Redwood
G92
Transistors
512M
727M
505M
627M
754M
Memory Size
512 MB
512 MB /
1024 MB
512 MB
512 MB
512 MB
Memory Bus Width
128 bit
128 bit
256 bit
128 bit
256 bit
Core Clock
750 MHz
550 MHz
650 MHz
775 MHz
600 MHz
Memory Clock
1000 MHz
1700 MHz /
1000 MHz
900 MHz
1000 MHz
900 MHz
Price
$67
$90
$80
$119
$90
Packaging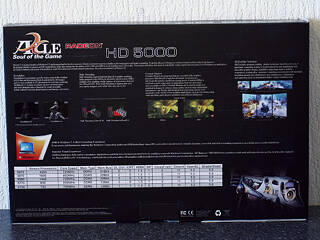 Axle's red package clearly conveys the message "ATI". All the important product specs and highlights are listed on the front, the Arctic Cooling badge is also easily noticeable.
Contents
You will receive:
Graphics card
Driver CD + Documentation
PCI-Express power cable
The Card
Axle uses a custom designed PCB and a cooling solution from Arctic Cooling on their HD 5670.
The card requires two slots in your system, normal by today's standards.
The card has one DVI port, an analog VGA output and an HDMI port. This is a reasonable output configuration for a card in this performance segment, because some users may still have an old VGA monitor. The HDMI interface includes a 7.1 channel audio signal that is generated by an HD audio device integrated in the GPU. Unlike NVIDIA cards which limit you to two active outputs at the same time, you may use all three outputs at the same time on ATI's latest cards.
You may add a second HD 5670 to run in CrossFire for better image quality or performance.
Here are the front and the back of the card, high-res versions are also available (
front
,
back
). If you choose to use these images for voltmods etc, please include a link back to this site or let us post your article.