Introduction
I have covered many mini PCs over the past year or so, and part of that has been to look towards these truly affordable PCs and the experience they offer when you've only got a budget of a few hundred dollars with which to put a PC together. With just a few hundred dollars at your disposal, your options are limited in a big way, especially if you want a PC for gaming. Yet what if gaming isn't of any concern? The point of all these mini PCs immediately becomes evident once you remove mainstream gaming from the equation, and I do have to say "mainstream" since many of these tiny PCs do pretty well with some basic gaming that doesn't rely too heavily on graphics.
This time around I've got an option from Biostar, who has to be one of my very favorite entry-level hardware manufacturers. Biostar doesn't go overboard in features or functionality: They give you what you need and nothing you don't, which to me is a refreshing take on PC hardware few other brands, if any, offer within their product lines. The one part of a system you can expect Biostar to put a bit of added effort into is audio, and since audio and video is primarily what PCs do, this design focus from Biostar has been wisely chosen. So what happens when they take their very specific focus and then design a mini PC? Well, you get this, the Biostar RACING P1.
Biostar RACING P1 Mini PC
CPU:
Intel Quad Core Z8350
MEMORY:
4 GB DDR3L-1600
Audio:
Realtek ALC5645 (2 CH)
NETWORKING:
AMPAK AP6255 controller
STORAGE:
64 GB eMMC flash
PORTS:
1 x USB 3.0, 1 x USB 2.0, 1 x Micro SD, 1 x Line-out/Mic-in, 1 x 5V 5050 LED header
COOLER:
Passive heatsink
GRAPHIC OUTPUT:
1 x HDMI
DIMENSIONS:
129.4 mm (L) x 83 mm (W) x 27 mm (H)
Packaging
Now, this is the type of packaging I like to see. The front is simple, but gets to the point. The rear equally so, with a few feature highlights and some images showing the ports the Biostar RACING P1 offers.
The side of the box indicates the Biostar RACING P1's exact specifications. Then, when you open up the box, you find the Racing P2 ready and waiting for you.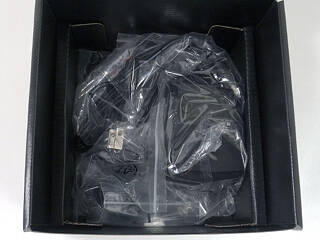 Remove the tray that holds the Biostar RACING P1 and you'll find the paper manuals and such, and below those, you'll find the included accessories.
Contents
Biostar left me pleasantly surprised with the included accessories they have bundled with the RACING P1. A full list is below:
User's manual, etc.
1 x RACING P1 mini PC
1 x Power adapter (with regional plugs included)
1 x Driver disc
1 x VESA mount
2 x Bag of VESA mounting hardware
1 x 4-pole audio adapter
The RACING P1's VESA mount is pretty simple. Screws are included. The audio plug lets you use a standard headset with separate mic and audio plugs, through the single audio socket provided by the RACING P1. Biostar must have looked at some of my older reviews complaining about units that have such a plug, but then require you to buy such an adapter separately. I have looked at every store locally that might carry such a cable and could not find one, so getting one in the box here is a nice treat for sure.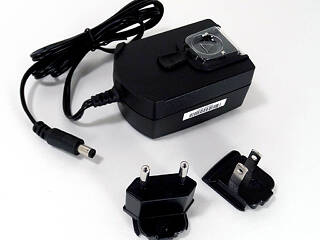 The power plug is actually nice and small, rather than being a large brick, and includes plugs for the US and EU regions.