Introduction
I would like to thank
Corsair
for supplying the review sample.
The SPEC family of cases belongs to the Carbide group and has always been part of Corsair's entry-level line, or, as they call it, "beginner friendly". With the previously released SPEC-ALPHA, these are geared towards a compact, modern, and unique design that won't break the bank. Today, Corsair has revealed the Corsair Carbide SPEC-OMEGA, which aims to grow the same design from the ALPHA by using some higher-end materials and marrying these with the same type of frame as on the Corsair Carbide 400Q, for example.
Specifications
Corsair Carbide SPEC-OMEGA
Case Type:
Mid-Tower
Materials:
Steel, glass, metal mesh & plastic
Weight:
5.2 kg
Slots:
7
Drive Bays:
2x Internal 3.5"
3x Internal 2.5"
Motherboard
Form Factors:
Mini-ITX, Micro-ATX, ATX
Dimensions:
495 mm x 232 mm x 516 mm
Front Door/Cover:
N/A
Front Fans:
3x 120 mm / 2x 140 mm (1x 120 mm pre-installed)
Rear Fans:
1x 120 mm (pre-installed)
Top Fans:
2x 120/140 mm (optional)
Bottom Fans:
N/A
Side Fans:
N/A
I/O:
2x USB 3.0
1x Headphone
1x Microphone
Fan/LED Controller:
N/A
Compatibility:
CPU cooler: 165 mm
GPU: 370 mm
PSU: 190 mm
Packaging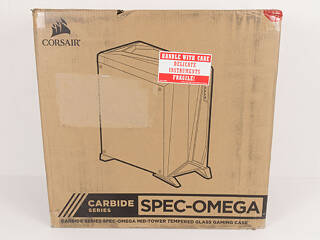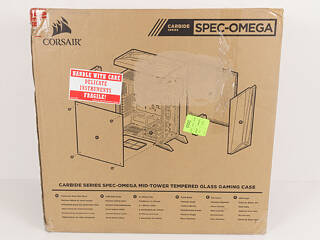 The Corsair Carbide SPEC-OMEGA ships in a plain cardboard box with an outline of the case on front and a blow-up diagram of it on the rear. You will find the information on the smaller panels to be identical, but Corsair has also placed a fully colored sticker on here to let you know which of the three color options you will be getting.
Some extremely large foam spacers hold the chassis in place, while an additional foam panel protects the glass side panel during transportation. The large pieces are required as the design is quite edgy and asymmetrical.