Packaging
Bright yellow covers and black sides—the color scheme is the same on the packaging of all new Corsair mice and mouse pads. The Ironclaw box has some of the usual technical specifications, render images, and marketing text printed on. The package follows a single rectangular design without a window or anything else of the sort. Its contents are the Ironclaw RGB itself, a quick-start guide, warranty information booklet, and disposal guide sheet. There is no extra set of mouse feet, unfortunately.
Shape
What is the first thing that came into my mind when I unboxed the Ironclaw RGB? It's absolutely massive! This mouse is huge in pretty much every dimension. It has a very defined right-handed ergonomic shape and is obviously meant for palm-gripping—it can be gripped in a different way, of course, as such things are entirely up to personal preference. I approximately have 18x9 cm hands and found the Ironclaw to be too large to be used excessively in my hands. It definitely requires a bigger palm in my opinion.
The shape itself isn't the simplest with quite a lot of ledges and attached parts, but the overall result can be really comfortable. There are curves and lips that help maintain a stable grip even when you pick up the mouse. Both sides are grooved inward to help with this, and the main buttons feature some comfort grooves as well. There's a huge palm rest at the back of the mouse that makes sure your hand is seated comfortably. There is no ring or pinky rest on the mouse, though, which I found quite odd with such a huge and well-contoured rodent, but since many people tend to dislike this feature, I can understand why Corsair chose to exclude it.
As for the measurements, the Corsair Ironclaw RGB is 130 mm (5.12") long, which can be considered rather long for a gaming mouse. The total width is 80 mm (3.15"), which includes the very wide palm rest. The actual width at which this mouse is gripped is approximately 68 mm (2.68") depending on your grip style. The total height is 45 mm (1.77"), which can be considered quite high. The hump is pretty much centered. These dimensions will most probably allow users with hands longer than 19 cm to use the mouse comfortably, but again, this is a highly subjective factor.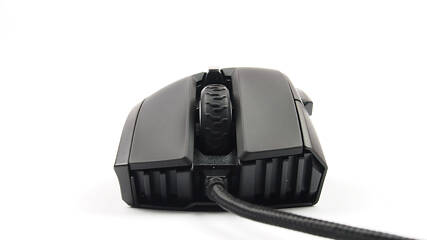 Here are some extra pictures of the mouse:
Comparisons
Here are some shape/size comparisons with other mice:
Corsair M65 RGB Elite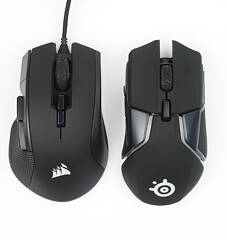 SteelSeries Rival 600
Razer DeathAdder
Logitech G603