Packaging
Bright is merely an understatement when it comes to the M65 RGB Elite's packaging. Corsair surely loves yellow as both the back and front panels of the box are bathing in the color. The packaging features the usual render pictures and technical specifications and lacks a window—less plastic waste is always a positive thing. The contents of the box are the mouse itself and some booklets that contain information on warranty, setup, and disposal.
Shape
I'm not sure if Corsair's M65 line can be called iconic, but it's definitely very unique and loved across some enthusiasts in the gaming mouse community. It certainly isn't a usual shape and can thus be very divisive. It's a right-handed ergonomic design with a short yet very wide shell, which makes it an ideal choice for claw gripping, but not too ideal for anything else—of course, this is entirely up to personal preference.
The shape is quite futuristic; it's very far from simple. The shell has a lot of ledges and is basically made out of a lot of different parts, which kind of makes it look like a space shuttle. Thankfully, I didn't find this to be bad. Even though I vastly prefer simpler solutions, the M65 fit nicely into my hands however strange because of it's dimensional parameters. The extra width compared to my other mice is most peculiar at first, but after a couple of minutes, I got used to it and found it to be very comfortable.
Let's move on to the measurements: the M65 Elite is 116.5 mm (4.59") long, which can be considered fairly short among gaming mice. The total width is 76.6 mm (3"), but depending on your grip style, the actual width at which it is gripped is approximately 68 mm (2.68"). The total height is 39.2 mm (1.54"), and the hump is located at the back of the mouse. With these dimensions, this mouse will be compatible with many differently sized hands (I think it would be safest for hands between 16–21 cm, which is 6.3–8.3 inches), although it will mainly fit claw grippers.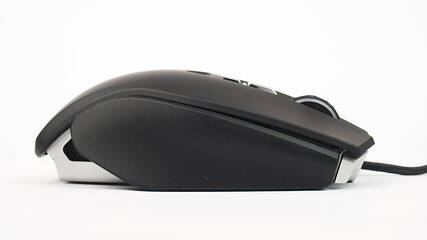 Here are some extra pictures of the mouse: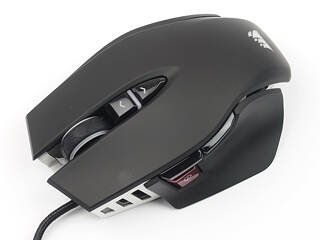 Comparisons
Here are some shape/size comparisons with other mice:
Razer DeathAdder
Logitech G305
Logitech G603
Corsair Harpoon RGB Wireless