Introduction
Durgod is a brand perhaps the majority of our readers are not be familiar with, and those who are would typically be of one of two sets of people, if not both. The first would be our Asian readers, especially those from China, to whom Durgod markets their products as proudly Made in China as part of Zhuhai Hoksi Technology Co., Ltd. in an attempt to improve the reputation of products manufactured in China on average. The second would be mechanical keyboard enthusiasts on forums and other online communities to whom the brand has represented good build quality, rarely seen switch options, and good value for money. We first met Durgod at Computex 2018, but it did take nearly two years to get the brand reviewed on TechPowerUp. Better late than never, however, and thanks again to the company for sending review samples to us.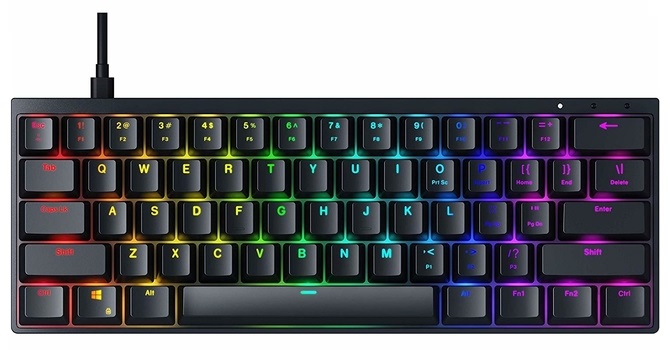 This review was made especially possible through one of their retailers who might as well be a distributor to the west,
HK-Gaming
. This outlet in particular is responsible for stocking units on Amazon worldwide, among others, which is how I had no problems getting a sample. Indeed, expect to see their mice reviewed on TechPowerUp courtesy of HK-Gaming. The retailer is synonymous with Durgod to where some of the keyboards are born off a collaboration, as outlaid in the name of this particular keyboard, the Durgod x HK Venus. It is a 60% form factor keyboard that is part of a larger series that also has a 68% keyboard called the Durgod x Hades to maintain the theme. We begin our review of the Durgod x HK Venus with a look at the specifications in the table below.
Specifications
Durgod x HK Venus Keyboard
Layout:
61-key, 60% form factor in a modified US ANSI layout
Material:
Aluminium case, steel plate, PBT plastic keycaps
Macro Support:
Yes
Weight:
0.82 kg / 1.90 lbs.
Wrist Rest:
No
Anti-ghosting:
Full N-Key rollover USB
Media Keys:
Available as a layered function
Dimensions:
106 (L) x 291 (W) x 39 (H) mm
Cable Length:
Type-C to Type-C : 3.3 ft / 1.0 m
Type-A to Type-C : 5.2 ft / 1.6 m
Software:
Yes
Switch Type:
Choice of multiple Cherry MX, Kailh, or Gateron RGB mechanical switch
Backlighting:
Yes, 16.8 M per-key RGB lighting
Interface:
USB
Warranty:
One year
Packaging and Accessories
As mentioned before, my sample of the Durgod x HK Venus keyboard shipped directly from Amazon, and so we begin with the product packaging. This is a smaller form factor keyboard, which is reflected in the smaller size of the packaging as well. The cardboard box comes in a plastic wrap, which I would have preferred not to see at all but is apparently a recommendation from Amazon, and adopts a black and blue color scheme. On the front is a large illustration of the keyboard, all backlit in RGB, with the company logo and product name in the corners, as well as a mention that this is indeed an RGB keyboard. It is on the back where we see the HK-Gaming logo alongside the Made in China tag line and marketing features in multiple different languages; the full product name is only seen on the sides.
Two double flaps and a seal on the side help keep the contents inside in place. Opening the box, we see some of the included accessories on top of the keyboard, which is inside a thin foam wrap. Durgod provides a manual that is quite handy as it goes over the pre-programmed functions, including the various layered functions and onboard controls over backlighting. Next to it is what appears to be a coaster made out of the material Durgod presumably uses for their mousepads, but it is a weird thing to have here, and one I paid no further attention to. A separate cardboard compartment at the top houses the other accessories, including the requisite cable(s).
Here, we see a hook-and-loop strap with the Durgod name on it, as well as a sticker for fans of the brand. More relevant to me is the included metal wire-style keycap puller, which was nice to see and helps remove the stock keycaps for replacement or ease of cleaning. Durgod also includes two separate cables, both shorter than the usual 1.8 m. The two cables terminate in a male USB Type-C connector on one end, which hints towards the use of Type-C connectivity on the keyboard itself. One of the cables is a Type-C to Type-C cable for when you want to use the keyboard with a laptop or tablet, for example, or even a compatible phone. It is fairly short at all of 1 m long, and the other 1.2 m long cable terminates in a USB Type-A connector, which would mean it is for us PC users.