Introduction
The GeForce GTX 970 is the other big graphics card launch of the day, apart from the high-end GeForce GTX 980. If you haven't given our
GTX 980 launch review
a quick browse through, check it out first as it goes into many more technical details and discusses all new software features. The GTX 970, much like its predecessors, the GTX 770 and GTX 670, is destined to be an underrated card decking up lower shelves under the GTX 980's shadow. Steam Hardware survey trends would also agree with our guess that this card will end up selling more between the two in volume, probably even fetching NVIDIA more revenues.
Priced at $329, displacing the GeForce GTX 770 (which is now discontinued), the GTX 970 is a higher-grade performance-segment graphics card not too far away from the crucial $250 price-point, which earns NVIDIA and AMD a sizable bulk of their discrete GPU revenues. The card is designed to run anything you throw at it at resolutions as high as 2560x1600 pixels and, perhaps, even Ultra HD, with watered down details. That alone makes the GTX 970 very exciting because today's $250 offerings, the Radeon R9 285 from AMD and NVIDIA's own GTX 760 (it saw a price-cut down to $220 at the time of writing), will run anything at 1080p, but may falter with higher resolutions. So your choice boils down to whether spending an additional $80 as a feature-proofing measure is worth it to you.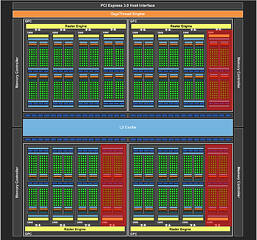 The GeForce GTX 970 is carved out of the 28 nm GM204 silicon on which the GTX 980 is based, by disabling three of sixteen streaming multiprocessors with, each, 128 CUDA cores. The resulting shader count is 1,664. Texture memory units are, proportionately, down to 104, as are clock speeds, although they stay well above the 1 GHz mark. The ROP count stays at a whopping 64, with a 256-bit memory bus width and a standard memory total of 4 GB.
Today, we're reviewing the EVGA GeForce GTX 970 SuperClocked ACX, a non-reference design, factory-overclocked GTX 970 graphics card with a custom design PCB and the company's signature ACX cooler, an aluminum heatsink with a trio of copper heat pipes that draw heat directly from the GPU die, dissipating it with the airflow its two 80 mm fans provide. The EVGA GTX 970 SC ACX's estimated retail price is $349, which is only a small increase over NVIDIA's reference design.
GeForce GTX 970 Market Segment Analysis
GeForce
GTX 680
GeForce
GTX 780
Radeon
R9 290
GeForce
GTX 970
EVGA GTX
970 SC ACX
Radeon
R9 290X
Radeon
HD 7990
GeForce
GTX Titan
GeForce
GTX 780 Ti
GeForce
GTX 980
Shader Units
1536
2304
2560
1664
1664
2816
2x 2048
2688
2880
2048
ROPs
32
48
64
64
64
64
2x 32
48
48
64
Graphics Processor
GK104
GK110
Hawaii
GM204
GM204
Hawaii
2x Tahiti
GK110
GK110
GM204
Transistors
3500M
7100M
6200M
5200M
5200M
6200M
2x 4310M
7100M
7100M
5200M
Memory Size
2048 MB
3072 MB
4096 MB
4096 MB
4096 MB
4096 MB
2x 3072 MB
6144 MB
3072 MB
4096 MB
Memory Bus Width
256 bit
384 bit
512 bit
256 bit
256 bit
512 bit
2x 384 bit
384 bit
384 bit
256 bit
Core Clock
1006 MHz+
863 MHz+
947 MHz
1051 MHz+
1165 MHz+
1000 MHz
1000 MHz
837 MHz+
876 MHz+
1126 MHz+
Memory Clock
1502 MHz
1502 MHz
1250 MHz
1750 MHz
1750 MHz
1250 MHz
1500 MHz
1502 MHz
1750 MHz
1750 MHz
Price
$340
$420
$370
$330
$350
$460
$1000
$1000
$590
$550
Packaging
Contents
You will receive:
Graphics card
Driver CD + Documentation
2x PCI-Express power adapter
DVI adapter
The Card
EVGA updated the shroud of their ACX cooler with improved fans and a modern design, but the cooling assembly below it is the same. Our review sample came without a backplate, EVGA tells us that retail boards will not have a backplate, but EVGA will be mailing backplates for EU customers, while US customers can purchase one. Dimensions of the card are 24.5 cm x 11.5 cm.
Installation requires two slots in your system.
Display connectivity options include two DVI ports, one HDMI port, and one DisplayPort. You may use all outputs at the same time, so triple-monitor-surround gaming is possible with one card.
The GPU also includes an HDMI sound device. It is HDMI 2.0 compatible, which includes HD audio and Blu-ray 3D movies support.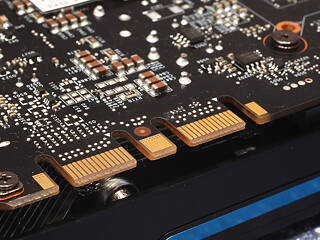 You may combine up to three GTX 970 cards in a multi-GPU SLI configuration. AMD recently switched to transferring CrossFire data via the PCI-Express bus in order to handle 4K frames. NVIDIA's SLI has no such limitations, so there is no reason to use PCIe.
Pictured above are the front and back, showing the disassembled board. High-res versions are also available (
front
,
back
).