Introduction
I would like to thank
Fractal Design
for supplying the review sample.
Today, we are reviewing the Fractal Design Focus G, which marks a notable deviation from the company norm by being available in up five different colors—black, white, red, blue, and gray. Geared towards the gamer and enthusiast on a dime, the Focus G does not simply apply the colors on the sides and top panel, but on all external metal panels. Even though the color is an important factor, Fractal Design chose to send us the plain old black version to take a look at.
Specifications
Fractal Design Focus G
Case Type:
Mid-Tower
Material:
Steel and plastic
Weight:
4.5 kg
Slots:
7
Drive Bays:
2x Internal 2.5" or 3.5"
1x Internal 2.5"
Motherboard
Form Factors:
Mini-ITX, Micro-ATX, ATX
Dimensions:
205 x 444 x 464 mm
Front Door Cover:
N/A
Front Fans:
2x 120 mm or 2x 140 mm (2x Silent Series LL 120 mm LED fans included)
Rear Fans:
1x 120 mm
Top Fans:
2x 120 mm or 2x 140 mm
Bottom Fans:
1x 120 mm
Side Fans:
N/A
I/O:
1x USB 2.0 and 1x USB 3.0
1x Headphone
1x Microphone
Fan/LED Controller:
N/A
Compatibility:
CPU cooler: 165 mm
GPU: 380 mm
PSU: 280 mm
Packaging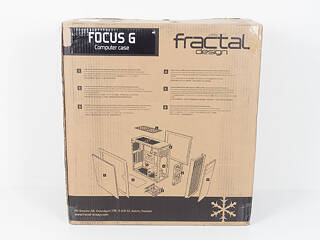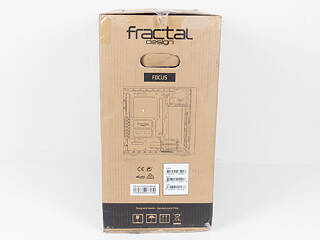 Fractal Design packs the Focus G into a brown cardboard box with an image of the chassis on front and a blow-up diagram on the rear. Both smaller panels hold additional information that may be of interest, and you will also find carrying holes to make moving the box around easier.
Sturdy Styrofoam spacers hold the chassis in place and protect it from damage during shipping. A clear plastic bag is used to keep fingerprints and scratches away during the packing process at the factory.