Introduction
We would like to thank FSP for supplying the review sample.
FSP was established in 1993 and currently, according to their claims, they are the 5th largest power supply vendor in the world. This means that this company is quite large and has a strong R&D department. Besides desktop PSUs they are also active in the manufacturing of several product categories including industrial power supplies, open frame PSUs, LCD TV PSUs, adapters, medical and LED power units, power banks and UPS systems. Like many other relevant companies their headquarters are located in Taiwan and most likely their factories in mainland China.
FSP recently released two new fanless Aurum Xilenser units, besides the Aurum Pro. The modular Xilensers come in two versions with 400W and 500W capacity and in today's review we are going to take a detailed look at the stronger of both. Here we should note that in addition to the modular Xilensers, FSP released non-modular versions too, for users that don't mind the lack of modular cables but want a lower price.
The modular Xilenser 500W or AU-500FL promises zero output noise thanks to its passive design and the lack of a cooling fan, it is 80 PLUS Gold compliant, uses only Japanese capacitors which tend to last longer than the Chinese ones and finally it is equipped with two +12V rails. The AU-500FL uses special designed ventilation holes, unlike most PSUs with honeycomb exhaust grills, which according to FSP allow natural aero dynamics to improve airflow, keeping the internals of the PSU cooler. Well we will see about this in action while testing the unit inside the hotbox, at ultra-high ambient temperature.
Specifications
FSP AU-500FL Features & Specs
Max. DC Output
500W
PFC
Active PFC
Efficiency
80 PLUS Gold
Operating temperature
no info
Protections
Over Voltage Protection
Under Voltage Protection
Over Current Protection
Over Power Protection
Short Circuit Protection
Cooling
Fanless
Dimensions
150 mm (W) x 86 mm (H) x 160 mm (D)
Weight
1.9 kg
Compliance
ATX12V v2.3, EPS 2.92
Warranty
5 years
Price at time of review (exc. VAT)
$135
The 80 PLUS Gold criteria are met and the protections include all but OTP (Over Temperature Protection). In a fanless unit we consider OTP as essential and FSP should have included it. The dimensions of the PSU are the standard ones and its weight is normal for its category and design. Also the warranty is pretty long at five years and the price is reasonable for a fanless PSU, which generally tend to be expensive. Finally, regarding max. operating temperature, FSP doesn't give any info, so in our tests we will try to stay close to 40°C, to avoid dramatic situations.
FSP AU-500FL Power Specs
Rail
3.3V
5V
12V1
12V2
5VSB
-12V
Max. Power
20A
20A
22A
22A
2.5A
0.3A
100W
492W
12.5W
3.6W
Total Max. Power
500W
FSP equipped the Aurum Xilenser 500 with two +12V virtual rails which can deliver almost the full power of the unit, combined. This greatly enhances usability since in contemporary systems the +12V rail is heavily utilized by almost all components. The minor rails are restricted to 100W, a power level which however will cover every modern system. Finally the 5VSB can output up to 2.5A, a typical capacity for this rail.
Cables & Connectors, Power Distribution
Native Cables
ATX connector (600mm)
20+4 pin
Modular Cables
4+4 pin EPS12V/ATX12V (650mm)
1
6+2 pin PCIe (550mm+100mm)
4
SATA (550mm) / 4 pin Molex (+155mm+155mm)
2 / 4
SATA (550mm+150mm+150mm)
3
FDD adapter (+150mm)
1
Only the 24-pin ATX connector sits on a fixed cable while all other cables are modular and they feature a flat profile which will be beneficial for airflow inside the chassis. The only problem is that the cables are wrapped in a rubber sleeving which isn't so flexible. If they used ribbon cables instead, things would be easier, during cable management. Cable length is sufficient but the distance among the PCIe connectors is short. Thankfully the distance among SATA/Molex connectors is compatible with ATX spec recommendation (150mm). Finally all connectors use 18AWG gauges which is the right size.
Power Distribution
12V1
ATX, CPU1, Peripheral
12V2
CPU2, PCIe1, PCIe2
Since the EPS connector could draw so much power, that it would overload a single rail, FSP decided to feed the connector from both rails. A wise decision since power distribution is balanced that way.
Packaging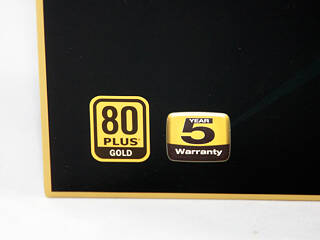 The package is quite large and has nice graphics. On the front center we meet the series description displayed in a pretty fancy way while on the bottom left side we find the badges for the Gold efficiency and the five year warranty.
On the bottom side there is a multi-language notice that informs users to visit the official FSP site for detailed information about the product. Apparently there wasn't any space on the box to include even a very brief features description.
As usual on the rear side you can find interesting information about the product. In this case we found the power specifications table, a description of the available cables/connectors, an efficiency graph and a description of the unit's most interesting characteristics.