Introduction
Last year, AMD released the Ryzen 3000 series desktop processors in one of the most monumental hardware launches of the modern era. This final step completed the Red brand's ascent back into the forefront of the desktop processor market that began with the launch of the first generation of Ryzen CPUs. Now, Intel is finally firing back with the launch of the 10th Generation Intel Core processors, along with a new motherboard standard to drive them.
As should be no surprise, the focus will remain on the new motherboards. While the 10th Gen Intel Core processors will not support PCIe 4.0 connectivity due to signal integrity issues, many of the Z490 motherboards are designed to support the PCIe 4.0 specification. This is accomplished by adding clock generators to help clean up the signal. Generally speaking, when it comes to long-term platform support, AMD has been the trendsetter. Has AMD's long support of the AM4 socket on its newer generation processors inspired Intel to take similar steps?
So what is Z490 offering right now? For starters, there has been a large focus on VRM and VRM cooling design. With the top-level Intel Core i9-10900K featuring 10 cores along with HyperThreading, the ability to deliver clean, continuous power is going to be one of the primary factors that separates a good Z490 board from the competition. With the introduction of HyperThreading on Intel's mid-range line-up, power delivery is going to be vital in all segments.
The Vision line from Gigabyte is targeted at content creators with a focus on connectivity, performance, and durability. The Gigabyte Z490 Vision G features a direct 12 phase VRM for clean power delivery, as well as a direct touch heatpipe for optimal cooling. An ample helping of USB ports as well as 2.5 Gb/s Ethernet promote superior connectivity while the white aesthetic lends visual flare. On paper, the Vision G lines up well as an affordable, well-featured motherboard, so let's see how the Gigabyte Z490 Vision G stacks up against the competition.
Specifications
Specifications
CPU Support:
Intel 10th Gen or later processors
Power Design:
CPU Power: 13 phase*
Memory Power: 2 phase
Chipset:
Intel Z490
Integrated Graphics:
Dependent on installed CPU
Memory:
4x DIMM, supports dual-channel DDR4-5000 (OC) MHz
BIOS:
Dual AMI UEFI BIOS
Expansion Slots:
3x PCIe 3.0 x16 slots (x16/x0/x4 or x8/x8/x4)
2x PCIe 3.0 x1 slots
Storage:
6x SATA 6 Gb/s ports
2x M.2 ports (SATA3/PCIe 3.0 x4)
Networking:
1x Intel 2.5 Gb/s LAN
Rear Ports:
1x PS/2 combo port
1x DisplayPort
1x HDMI port
1x LAN (RJ45) port
1x USB 3.2 (Gen2) Type-C port
4x USB 3.2 (Gen1) ports
3x USB 3.2 (Gen2) Type-A ports
2x USB 2.0 ports
6x 3.5 mm audio jacks
Audio:
1x Realtek ALC1220 Codec
Fan Headers:
5x 4-pin
Form Factor:
ATX Form Factor: 12.0 in x 9.6 in, 30.5 cm x 24.4 cm
Exclusive Features:

APP Center
@BIOS
EasyTune
Fast Boot
Game Boost
RGB Fusion
Smart Backup
System Information Viewer
USB TurboCharger
Support for Q-Flash Plus
Support for Q-Flash
Support for Xpress Install
Packaging and Contents
The front of the Gigabyte Z490 Vision G box features a white background with a gold pattern. "Z490 Vision G" is printed in white, with the brand badging on the right.
The back of the box has all the highlights: a top-down shot of the board, several panels detailing prominent features, a shot of the rear I/O, and the specifications list. The box design is well executed and matches the board perfectly.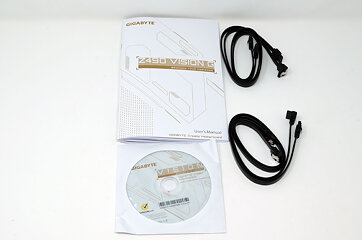 The accessories are standard. Notably absent is any kind of rear I/O shield because the shield is integrated into the board.
The full list of accessories includes:
Manual and support DVD
4x SATA 6 Gb/s cables
Board Layout
The Z490 Vision G features a black PCB with black and silver heatsinks and white shrouds.
The CPU socket is open enough for most air coolers.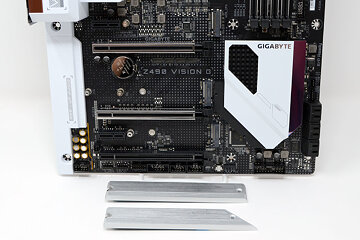 There are three M.2 slots on the Gigabyte Z490 Vision G. The top slot is reserved for future PCIe Gen 4 functionality, and the bottom two feature full coverage heatsinks.
The Gigabyte Z490 Vision G offers three PCI Express 3.0 x16 slots, with the top two metal-reinforced. The board has a total of six SATA 6 Gb/s ports on the side, angled 90 degrees from the board.
The Gigabyte Z490 Vision G has a good I/O offering with lots of USB connectivity.
HDMI port
DisplayPort
4x USB 3.2 Gen1 Type-A ports
PS/2 combo port
2x USB 2.0 ports
3x USB 3.2 Gen2 Type-A port
USB 3.2 Gen2 Type-C port
RJ-45 LAN port
6x 3.5 mm audio jacks
Networking on the Gigabyte Z490 Vision G is handled by Intel's new 2.5 Gb/s controller.