Introduction
A few months ago AMD released their new Radeon HD 5800 Series of graphics cards which quickly became a big success due to the numerous improvements made over previous generations. Up to recently all cards available from all manufacturers were reference design cards which means they were all made to the same specifications, using the same components and then a sticker was added on the cooler depending on the AIB.
Now we are seeing more and more custom designed HD 5850 cards that use both a non-reference cooler and a non-reference PCB design. While this allows for considerable production optimizations and reduction in manufacturing cost it also introduces the risk that the product might not work as optimally as intended by AMD.
HIS has now released a HD 5850 that is completely custom designed. It uses their iCooler V heatsink together with a customized PCB design that allows more cost effective production. The clock speeds have been increased by 40 MHz core and 125 MHz memory, not a huge change but it can certainly add a few percent performance to the card. A clear highlight of this card is the included game bundle: Call of Duty: Modern Warfare 2 which is one of the recent AAA titles.
Radeon
HD 5830
GeForce
GTX 275
Radeon
HD 5850
HIS HD 5850
iCooler V Turbo
Radeon
HD 5870
Shader units
1120
240
1440
1440
1600
ROPs
16
28
32
32
32
GPU
Cypress
GT200
Cypress
Cypress
Cypress
Transistors
2154M
1404M
2154M
2154M
2154M
Memory Size
1024 MB
896 MB
1024 MB
1024 MB
1024 MB
Memory Bus Width
256 bit
448 bit
256 bit
256 bit
256 bit
Core Clock
800 MHz
602 MHz
725 MHz
765 MHz
850 MHz
Memory Clock
1000 MHz
1107 MHz
1000 MHz
1125 MHz
1200 MHz
Price
$220
$230
$310
$345
$400
Packaging
HIS has introduced those "tall" packages a few months back and they seem to work quite well. They are much more efficient in terms of space, yet look good and catch attention on a store shelf.
Contents
You will receive:
Graphics card
Driver CD
DVI to HDMI Adapter
CrossFire Bridge
2x PCI-E power cable
Call of Duty: Modern Warfare 2 Coupon
The Card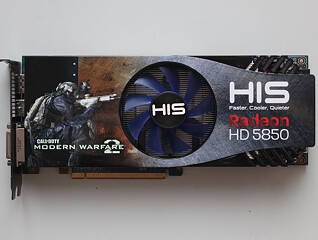 HIS is introducing their fifth generation iCooler thermal assembly with this card. It looks great, even though it is certainly not as nice as the AMD reference coolers of the HD 5000 Series.
Just like the reference design cards, you need two slots in your system for installation.
The card has two DVI ports, one HDMI port, and one DisplayPort. This configuration seems to make the max out of the available space, and also leaves a hole in the slot for air to escape.
All of AMD's recent card feature an integrated sound device that has been upgraded to support HDMI 1.3a which includes Dolby TrueHD, DTS-HD, AC-3, DTS and up to 7.1 channel audio with 192 kHz / 24-bit.
CrossFire configurations with up to four cards are supported, you may also mix cards from different vendors in your CrossFire setup.
Here are the front and the back of the card, high-res versions are also available (
front
,
back
). If you choose to use these images for voltmods etc, please include a link back to this site or let us post your article.