Packaging
The packaging ID-Cooling uses is quite large, measuring in at 51.4 cm long, 27.6 cm wide, and 15.4 cm tall. On the front, you will find the Dashflow 360 front and center, along with its RGB sync support and a few features, such as its premium sleeved tubing and powerful pump. Looking at the side, you will see just the product and company names with an RGB circle. They want to make sure you know it is RGB/LED-equipped. Once flipped over to the back, you will find the specifications and supported sockets for the Dashflow 360.
The right side is essentially the same as the left, while the top features mechanical drawings of the unit. Flipping it over and checking the bottom reveals an in-depth look at the Dashflow 360's most important features in various languages.
Contents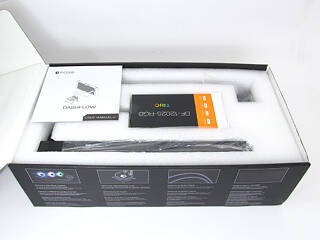 The box, once opened, reveals everything encased in foam. I will gladly admit that this made me quite happy. Typically, most all-in-one liquid coolers are shipped in cardboard shells in a box. The use of foam here creates a more premium feel and offers far more protection during shipping. Overall, ID-Cooling offers solid packaging in regards to the protection it offers.
The Dashflow 360 has support for every modern socket you can think of. The only sockets that are not supported are AMD's TR4 socket and Intel's LGA775, which is understandable as one needs an optimized cold plate and the other is as old as dirt.
Common parts supplied for mounting include:
24x Radiator fan screws
12x Radiator screws
12x Fan screws
4x Mounting nuts
4x Threaded standoffs
4x Backplate screws
4x Insulating washers
4x LGA 2011 thumb screws
4x Mounting bracket screws
4x T nuts
3x 120 mm RGB fans
1x Intel mounting bracket
1x AMD mounting bracket
1x Tube of thermal paste
1x Backplate
1x RGB splitter
1x Pre-filled liquid cooler
1x User's manual
1x RGB controller manual
1x PWM splitter
1x RGB power cable
1x RGB controller