Packaging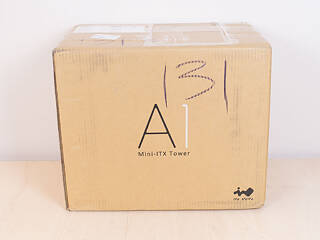 The In Win A1 ships in a thick-walled, compact cardboard box with a large "A1" on both bigger sides, while the smaller ones hold some marketing text as well as the specifications of the enclosure.
Two sturdy Styrofoam spacers on the ends of the case hold it in place and protect it from damage during transport. On top of that, a black cloth bag keeps scratches and fingerprints away.
Contents
You will receive the usual set of screws and zip ties, but In Win also includes a metal graphic-card support element and a SATA to 4-pin LED connector should your motherboard not come with one. Lastly, there are four small rubber strips you need to place on the underside of the chassis.