Introduction
With revenue in the multi-billion-dollars range, Kingston is the largest DRAM and flash memory products vendor in the world. While their strongest suit is in memory modules and USB/flash card storage, they are also a major player in the SSD market.
The Kingston A1000 SSD uses the M.2 form factor with a PCI-Express x2 3.0 interface (which is half that of high-end M.2 SSDs). As the controller, a Phison PS5008 four-channel controller is used, which is paired with BiCS 3D TLC flash from Toshiba.
Positioned as an entry-level/value NVMe drive, the A1000 promises to offer higher speed than 2.5" or M.2 SATA drives without breaking the bank. For users demanding higher performance and MLC, the KC1000 is part of Kingston's product stack.
The A1000 SSD is available in capacities of 240 GB, 480 GB, and 960 GB. This review covers the 480 GB version. Endurance is rated at 150 TB for the 240 GB model, 300 TB for 480 GB, and 600 TB for the 960 GB variant.
Specifications: Kingston A1000 480 GB
Brand:
Kingston
Model:
SA1000M8/480G
Controller:
Phison PS5008 E8
Flash:
Toshiba, 15 nm 3D TLC
FB12808UCT1-32
Endurance:
300 TB total bytes written
Form Factor:
M.2 2280
Capacity:
480 GB (447.1 GB usable)
32 GB additional overprovisioning
Interface:
PCIe Gen 3 x2, NVMe 1.2
Device ID:
KINGSTON SA1000M8480G
Firmware:
E8FK11.G
Warranty:
5 years
Packaging and Contents
The Drive
The drive uses the M.2 2280 form factor, which means it is 22 mm wide and 80 mm long. A heatspreader is not installed.
Unlike most M.2 NVMe SSDs, the Kingston A1000 uses the PCIe x2 3.0 interface, which provides half the bandwidth of the x4 interface that is typically used. PCIe x2 enables speeds of up to around 2 GB/s, which should be sufficient for how the A1000 is positioned. Please note that using an x2 drive will not magically free up two PCIe lanes for other slots. The four lanes to the M.2 slot are hardwired on the motherboard, so they can't be reassigned.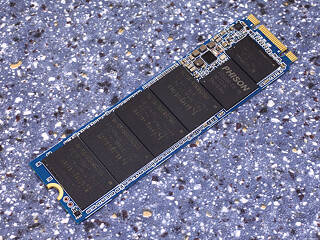 You will find the SSD controller and four flash chips on the PCB. A single DRAM chip is also present to provide the SSD controller with RAM and soak up write bursts.
The Phison PS5008 is a 4-channel PCIe SSD controller.
The four 3D TLC flash chips are produced by Toshiba and rebranded by Kingston. They use 15 nanometer technology.