Introduction
Logitech recently released several gaming peripherals under the "G Pro" name—a
tenkeyless mechanical keyboard
, two fantastic mice (
wired
and
wireless
), and a gaming headset, which I'll focus on in this review. The entire "G Pro" product family is built around the same concept: Logitech cooperates with various professional eSports teams (Team SoloMid, London Spitfire, San Francisco Shock, G2 Esports, and NRG Esports, to name a few) and develops peripherals according to the feedback that it gathered from some of the finest gamers in the world. Although this is a story we've heard a million times before, it seems that this time around, the pros actually do end up using the peripherals they helped bring to life. London Spitfire recently won Overwatch League's first championship while using the Logitech G Pro Wireless Mouse, and a bunch of members from Team SoloMid's PUBG team can be seen wearing the G Pro Gaming Headset in their Twitch streams.
As far as gaming headsets go, the $90 Logitech G Pro Gaming Headset falls into the "no-frills" category. It's fully analogue, meaning you'll have to connect it to an existing sound card via standard 3.5-mm port(s) and doesn't try to do a thing beyond being comfortable, sounding nice, and offering a good microphone. I'm a big fan of this approach as these are the three pillars that directly determine the quality of any gaming headset. Having some extra features can be nice, but if a headset doesn't deliver where it matters the most, there's nothing that can save it from mediocracy. With that being said, let's check out what Logitech and eSports professionals came up with!
Specifications
40-mm Pro-G dynamic drivers (neodymium magnet)
32 Ω impedance
20-20,000 Hz frequency response (specified by the manufacturer)
Closed-back, over-ear design
Detachable condenser unidirectional microphone
In-line remote control with volume dial and microphone mute switch
Detachable 1.5 m braided cable (TRRS) + 0.5 m braided cable with TRRS-to-TRS adapter
Weight: 259 g
The Package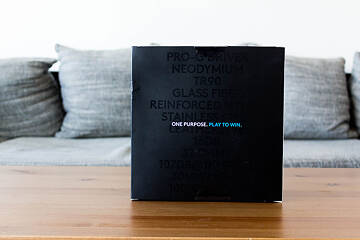 All peripherals from the G Pro lineup come in a beautiful box, and the G Pro Gaming Headset is no exception. The front of the box depicts a silhouette of the headset, while its rear seemingly only has a couple of inspirational words printed on it: "One Purpose. Play to Win." Only after you look at the rear of the box at a certain angle will you be able to see all of the technical specifications printed on it. What a cool way to peak your interest for the product!
The sides of the box go over the specs in a more obvious way and inform us about the eSports teams and organizations using the "Logitech G" series of products.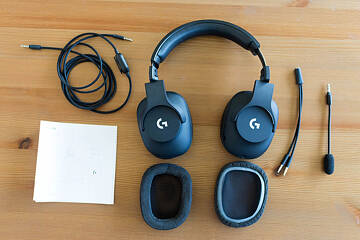 Here's what you get inside the box. Aside from the headset and user manual, there's a detachable braided cable, along with a TRRS-to-TRS adapter, detachable microphone, and an extra pair of ear pads. These are an alternative to the "default" ear pads rather than a mere replacement. We'll examine the differences between them on the next page of the review.