The Package
UE ships the BOOM in a cylindrical box that might give logistics a bit of headache as they pack the BOOM up. It does, however, make sense since the BOOM is shaped like a cylinder with a small rubber bulge.
The BOOM is USB charged, and UE ships each set with a USB charger and a flat micro-USB cable. The charger is compact and square, making it very small and easy to carry around. As with the Logitech UE Boombox, the new BOOM does not come with a protective cover or pouch to store it in, which is a shame.
Closer Examination
UE's BOOM is available in a large variety of colors. The ones we had for review were bright blue and gray with some small, highly visible details in yellow. Overall, the BOOM simply looks great, and you immediately notice its sturdy feel once you get your hands on it. All of the materials are quite heavy duty, and the button mechanisms also seem durable.
An interesting feature is the mount on the base of the BOOM. It is the same as that used on tripod mounts, which allows you to attach a lot of different stands to them if needed. The supplied hook also allows you to tie the BOOM to pretty much anything; it will of course simply dangle around.
The charger is small and quite stylish.
The fabric which envelopes most of the unit looks really good, and the weave seems very durable to boot. It does not stain easily because the fabric is 100% synthetic.
Size-wise, the BOOM does not create much of a presence. Its size is not horrible, even compared to a Samsung Galaxy S3. It is definitely sized to be carried around easily.
The on/off switch and the Bluetooth pairing button are located conveniently at the top.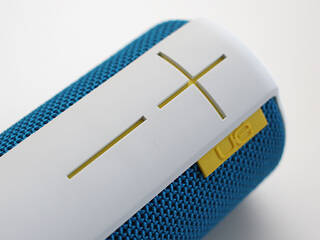 Huge volume buttons on the side allow for easy volume adjustments.