Introduction
AMD's Radeon R9 290X is built on the company's Hawaii GPU, the first truly new high-end graphics chip from the company in a very long time (21 months). Using 6.8 billion transistors, the GPU is built on a 28 nanometer process at TSMC, Taiwan. It features 2816 shaders and 64 ROPs connected to 4 GB of memory using a 512-bit wide memory bus.
We are reviewing MSI's flagship R9 290X Lightning today. It comes with a large triple-slot, triple-fan cooler and MSI says it to be equipped with everything hardcore overclockers need to break world records. MSI overclocked GPU frequency by 80 MHz out of the box, while memory remains unchanged.
The MSI R9 290X Lightning is currently available online for $699.
MSI R9 290X Lightning Market Segment Analysis
HD 7970
GHz Ed.
GeForce
GTX 680
GeForce
GTX 780
Radeon
R9 290
Radeon
R9 290X
MSI R9 290X
Lightning
Radeon
HD 7990
GeForce
GTX Titan
GeForce
GTX 780 Ti
Shader Units
2048
1536
2304
2560
2816
2816
2x 2048
2688
2880
ROPs
32
32
48
64
64
64
2x 32
48
48
Graphics Processor
Tahiti
GK104
GK110
Hawaii
Hawaii
Hawaii
2x Tahiti
GK110
GK110
Transistors
4310M
3500M
7100M
6200M
6200M
6200M
2x 4310M
7100M
7100M
Memory Size
3072 MB
2048 MB
3072 MB
4096 MB
4096 MB
4096 MB
2x 3072 MB
6144 MB
3072 MB
Memory Bus Width
384 bit
256 bit
384 bit
512 bit
512 bit
512 bit
2x 384 bit
384 bit
384 bit
Core Clock
1050 MHz
1006 MHz+
863 MHz+
947 MHz
1000 MHz
1080 MHz
1000 MHz
837 MHz+
876 MHz+
Memory Clock
1500 MHz
1502 MHz
1502 MHz
1250 MHz
1250 MHz
1250 MHz
1500 MHz
1502 MHz
1750 MHz
Price
$470
$400
$480
$460
$570
$700
$900
$1000
$660
Packaging
Contents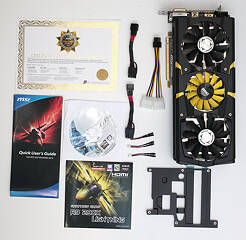 You will receive:
Graphics card
Driver CD + documentation
3x Voltage measurement cable
2x PCIe 6-pin to 8-pin adapter
PCIe Molex to 6-pin adapter
VRM heatsink for liquid-nitrogen use
The Card
MSI is using a predominantly black cooler with a yellow fan that has a few yellow highlights radiating outward. The shroud looks exactly the same as that of the GTX 770 Lightning. Dimensions of the card are 30 cm x 13 cm.
With the thick heatsink, the card takes up three slots when installed in your system.
Display connectivity options include two DVI ports, one HDMI port and one DisplayPort. You may use all outputs at the same time, so triple-monitor surround gaming is possible with one card, even more so if you use a MST DisplayPort hub.
The GPU also includes an HDMI sound device. It is HDMI 1.4a compatible, which includes HD audio and Blu-ray 3D movies support.
A physical CrossFire connector is not present as all Hawaii-based GPUs send their CrossFire data via the PCI-Express bus.
Pictured above are the front and back, showing the disassembled board. High-res versions are also available (
front
,
back
).