Introduction
Neo Forza is a relatively young manufacturer of DRAM memory modules and flash memory products. The Taiwanese company was founded in 2018 as the enthusiast-focused brand of Goldkey, a well-established producer of computer hardware focusing on OEM manufacturing until recently.
Today's review covers the Neo Forza eSports M.2 NVMe SSD in the 2 TB version. We reviewed the
1 TB model
back in April. The drive is also known as the NFP075. "eSports" is not a range of products, but the name of this specific drive. A future Gen 4 drive would be called "Esports4x4," according to Neo Forza. Under the hood, the NFP075 is powered by a Phison PS5012-E12S controller paired with 96-layer 3D TLC NAND from Toshiba. This is a noteworthy difference vs. the 1 TB version which uses YMTC flash. A DRAM chip from UnilC is included, too, providing 512 MB of DRAM cache for the mapping tables of the SSD. PCI-Express 3.0 x4 is used as the host interface.
The Neo Forza eSports is available in capacities of 256 GB, 512 GB, 1 TB, and 2 TB. Endurance for these models is set at 420 TBW, 890 TBW, 1350 TBW, and 1550 TBW respectively. Neo Forza provides a three-year warranty for the eSports SSD.
Specifications: Neo Forza eSports NFP075 2 TB
Brand:
Neo Forza
Model:
NFP075PCI2T-3400200
Capacity:
2048 GB (1907 GB usable)
No additional overprovisioning
Controller:
Phison PS5012-E12S
Flash:
Toshiba 96-Layer 3D TLC
TABHG65AWV
DRAM:
1x 512 MB DDR3L-1866
UnilC SCB13H4G160AF-11MI
Endurance:
1550 TBW
Form Factor:
M.2 2280
Interface:
PCIe Gen 3 x4, NVMe 1.3
Device ID:
Neo Forza NFP075PCI2T-3400000
Firmware:
ECFM13.3
Warranty:
3 years
Price at Time
of Review:
$220 / 11 cents per GB
Packaging
The Drive
The drive uses the M.2 2280 form factor, which makes it 22 mm wide and 80 mm long.
Like most M.2 NVMe SSDs, the Neo Forza NFP075 connects to the host system over a PCI-Express 3.0 x4 interface.
On the PCB, you'll find the controller, four flash chips, and one DRAM chip.
Chip Component Analysis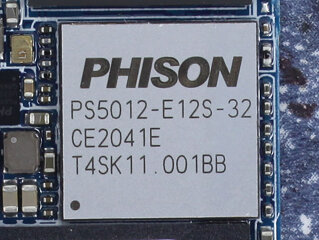 The flash controller is made by Phison. The PS5012-E12S supports TLC, QLC and PCI-Express 3.0 x4. It uses eight flash channels and is produced on a 28 nm process at TSMC Taiwan. The main difference to the E12 without the "S" is that the E12S is physically smaller, works with half the DRAM capacity of the E12, and uses a metal case, which helps with thermals.
The four TLC flash chips are made by Toshiba, built using 96 layers.
One Xi'an UnilC Semiconductor DDR3-1866L chip provides 512 MB of fast DRAM storage for the controller to store the mapping tables in. This is the second time we encounter DDR memory made by UnilC, a Chinese memory manufacturer who inherited its original DRAM IP from Infineon and Qimonda, but is now actively developing their own technologies.
Test Setup
Test System SSD 2021
Processor:
AMD Ryzen 3 3300X @ 4.3 GHz
Zen 2, 16 MB Cache
Motherboard:
ASUS Prime X570-Pro
BIOS 2606 / AGESA 1.0.8.0
Memory:
Zadak Spark RGB, 16 GB DDR4
@ 3200 MHz 16-18-18-38
Graphics:
EVGA GeForce RTX 2060 KO 6 GB
Case:
DarkFlash DLX22
Operating System:
Windows 10 Professional 64-bit
Version 2004 (May 2020 Update)
Drivers:
AMD Chipset: 2.07.14.327
NVIDIA: 452.06 WHQL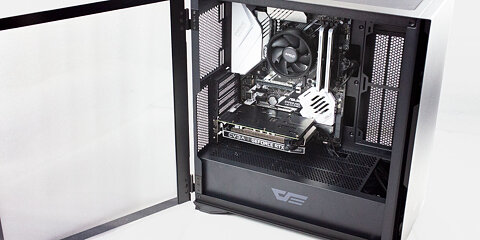 TechPowerUp SSD Review Test Group

| | Price | Controller | Channels | Flash | DRAM | Interface |
| --- | --- | --- | --- | --- | --- | --- |
| ADATA Falcon 1 TB | $110 | Realtek RTS5762DL | 4 | TLC / Micron | No | PCIe 3.0 x4 |
| ADATA SX6000 Pro 1 TB | $105 | Realtek RTS5763DL | 4 | TLC / Micron | No | PCIe 3.0 x4 |
| ADATA SX8200 Pro 1 TB | $110 | Silicon Motion SM2262ENG | 8 | TLC / Micron | Yes | PCIe 3.0 x4 |
| ADATA Swordfish 1 TB | $100 | Realtek RTS5763DL | 4 | TLC / SanDisk | No | PCIe 3.0 x4 |
| Corsair MP400 2 TB | $250 | Phison E12S | 8 | QLC / Micron | Yes | PCIe 4.0 x4 |
| Corsair MP600 Pro 1 TB | $210 | Phison E18 | 8 | TLC / Micron | Yes | PCIe 4.0 x4 |
| Crucial BX500 480 GB | $60 | Silicon Motion SM2258XT | 4 | TLC / Micron | No | SATA |
| Crucial MX500 500 GB | $65 | Silicon Motion SM2258H | 4 | TLC / Micron | Yes | SATA |
| Crucial P1 1 TB | $130 | Silicon Motion SM2263ENG | 8 | QLC / Micron | Yes | PCIe 3.0 x4 |
| Crucial P5 1 TB | $150 | Micron DM01B2 | 8 | TLC / Micron | Yes | PCIe 3.0 x4 |
| Gigabyte AORUS Gen 4 2 TB | $340 | Phison E16 | 8 | TLC / Toshiba | Yes | PCIe 4.0 x4 |
| HP EX900 Pro 1 TB | $115 | Silicon Motion SM2263EN | 4 | TLC / Micron | Yes | PCIe 3.0 x4 |
| HP EX950 2 TB | $250 | Silicon Motion SM2262ENG | 8 | TLC / Micron | Yes | PCIe 3.0 x4 |
| Hynix Gold P31 1 TB | $135 | Hynix ACNT038 | 8 | TLC / Hynix | Yes | PCIe 3.0 x4 |
| Kingston A2000 1 TB | $110 | Silicon Motion SM2263ENG | 4 | TLC / Micron | Yes | PCIe 3.0 x4 |
| Kingston KC2000 1 TB | $170 | Silicon Motion SM2262ENG | 8 | TLC / Toshiba | Yes | PCIe 3.0 x4 |
| Lexar NM620 1 TB | $120 | Innogrit IG5216 | 4 | TLC / Micron | No | PCIe 3.0 x4 |
| Sabrent Rocket Q 1 TB | $120 | Phison E12S | 8 | QLC / Micron | Yes | PCIe 3.0 x4 |
| Samsung 860 EVO 1 TB | $135 | Samsung MJX | 8 | TLC / Samsung | Yes | SATA |
| Samsung 870 QVO 1 TB | $105 | Samsung MKX | 8 | QLC / Samsung | Yes | SATA |
| Samsung 970 EVO 500 GB | $65 | Samsung Phoenix | 8 | TLC / Samsung | Yes | PCIe 3.0 x4 |
| Samsung 970 Pro 512 GB | $170 | Samsung Phoenix | 8 | MLC / Samsung | Yes | PCIe 3.0 x4 |
| Samsung 980 1 TB | $120 | Samsung Pablo | 8 | TLC / Samsung | Yes | PCIe 3.0 x4 |
| Samsung 980 Pro 1 TB | $190 | Samsung Elpis | 8 | TLC / Samsung | Yes | PCIe 4.0 x4 |
| Seagate Barracuda 120 1 TB | $130 | Phison S12 | 8 | TLC / Intel | Yes | SATA |
| Seagate FireCuda 510 1 TB | $150 | Phison E12 | 8 | TLC / Toshiba | Yes | PCIe 3.0 x4 |
| Team Group MP34 512 GB | $65 | Phison E12 | 8 | TLC / Toshiba | Yes | PCIe 3.0 x4 |
| WD Black 2018 500 GB | $65 | SanDisk 20-82-007011 | 8 | TLC / SanDisk | Yes | PCIe 3.0 x2 |
| WD Black SN850 1 TB | $215 | SanDisk 20-82-10035 | 8 | TLC / SanDisk | Yes | PCIe 4.0 x4 |
| WD Blue NVMe 500 GB | $65 | SanDisk 20-82-007010 | 4 | TLC / SanDisk | Yes | PCIe 3.0 x2 |
| XPG Gammix S70 2 TB | $270 | Innogrit IG5236 | 8 | TLC / Micron | Yes | PCIe 4.0 x4 |