Packaging & Contents
NZXT's packaging measures in at 17 cm x 20 cm x 10 cm. The box is extremely small for the size of the cooler it contains, pointing to a lack of padding, which worries me a bit. The front of the box shows an image of the cooler and points out a few features, including the four 8 mm heatpipes, the option for a second fan, and Seamless Direct Touch (SDT). The right side gives the cooler's dimensions and all other specifications related to the heatsink and fan.
The back of the box again shows the CPU cooler off, with a closer look at some of its features. The left side has a short paragraph detailing the NZXT Respire T40. Below it is a list of all supported sockets.
Contents
Opening the box, I am confronted by less than stellar packaging: a simple plastic tray holds everything in place. It is easy to feel the cheapness of the plastic packaging once it has been removed. Even more problematic is that the accessories are packaged in a way to cause damage to the heatsink's base with one good drop. I was lucky in that nothing was damaged, but with the way it is currently packaged, a single drop could put dents into the heatpipes.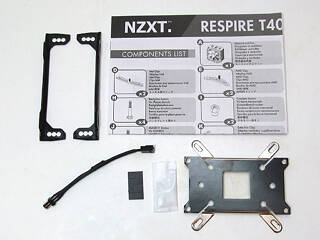 The included parts are pretty straight forward. The heatsink and fan are nothing truly amazing. The heatsink is of a single-tower design that makes use of heatpipes in direct contact with the CPU. The fan is also nothing to really write home about; it is a sleeve-bearing fan with a life span of 20,000 hours, which is slightly over 2 years of 24/7 use. That said, more can't be expected given the price. The instructions are on a single, large fold-out that is very easy to read and follow, making installation of this cooler easy for even first-time builders. NZXT even provided extra fan clips should you want to attach a second fan. Finally, the mounting hardware itself is straight forward and easy to use. The crossbar is extremely sturdy, although the NZXT logo on top seems like a wasted effort, but it doesn't hurt either.
Common parts supplied for mounting include:
4x Nuts
4x Spacers
4x Backplate screws
4x LGA 2011 thumb screws
4x Fan clips
2x AMD mounting arms
2x Intel mounting arms
2x Crossbar screws
1x Crossbar
1x 120 mm x 120 mm x 25 mm fan
1x Intel backplate
1x Packet of thermal paste
1x Set of extra rubber pads
1x Speed adaptor