Introduction
I would like to thank
CaseKing.de
for supplying the review sample.
CaseKing is one of the few companies out there, which will not just sell anything. They only offer hardware that performs well and is of high quality. The shop carries quite a few exclusive parts and devices from all around the world and it is also the official distributor for a long list of well known manufacturers. Their assortment has grown substantially in recent years, while great service and support is still a very important part of the shop philosophy.
What we have in our lab today is a fine looking PC case from NZXT. Its name is Tempest and it's supposedly an "AirflowKing" in its class when it comes to cooling performance.
"
Efficient airflow is crucial in designing a high performance gaming chassis so that all of your computer's components are able to perform at their optimal level" said Johnny Hou, Chief Designer at NZXT. With the Tempest's 6 120mm fans, we've created the Airflow King of cases. Combining the cooling capabilities with the space and storage features, the Tempest is designed to be the best enthusiast and gaming chassis in its class
"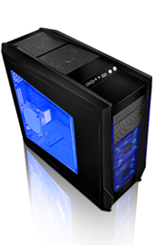 Features
The product had been shown at this year's CES, but is yet to be available anywhere. Although the case has been built with enthusiasts in mind, it will cost you $99 or
99.90€
. As for the features, Tempest is equipped with the following gadgets:
Airflow King: Dual 120mm intake, Dual 140mm Exhaust with an additional side 120mm fan and rear 120mm fan all included
Maximize Expandability: E-ATX support allows more compatibility with high end components including large graphics cards
Easier accessibility & cable management: Cable routing is pre-drilled on the motherboard so users can hide cables behind the motherboard tray, allowing more a cleaning look and better airflow
Power, E-SATA, USB and Reset buttons are mounted at the top to give better accessibility
Bottom mounted PSU: PSU mounting at the bottom allows for more security and separation of heat from the CPU
Server-like HDD space: Dual 120mm fans cool cages that hold up to 8 HDDs allowing for large capacity systems while maintaining cool temperatures
You can clearly see from the above list that Tempest has the spirit to compete with more expensive models from Thermaltake, CoolerMaster or Silverstone. Even though it is looking rather plain and simple, do not let the looks alone deceive you. The inside matters just as much and even more.
Specifications
Model:

Tempest

Case Type:

Mid Tower

Materials:

Steel and plastic

Dimensions:

211.5 x 521.5 X 562 mm

Color:

Black

Cooling System:

Front, 2 X 120 mm Blue LED (included)
Rear, 1 X 120 mm (included)
Side panel, 1 X 120mm Blue LED (included)
top, 2 X 140mm Fan (included)


Motherboards:

E-ATX, ATX, MICRO-ATX, BABY AT

Drive Bays:

3 external 5.25" drive bays (up to six 5.25")
1 3.5" External bracket
8 internal 3.5" drive bays
Screwless Rail Design

Front I/O:

USB 2.0 x 2, AUDIO x 2, eSATA x 1

Expansion Slots:

7

Weight:

11.2 kg (w/o PSU)