Introduction
Yesterday, NVIDIA announced the GeForce GTX 1650 graphics card, the smallest and most affordable implementation of the "Turing" architecture. Much like other GeForce GTX 16-series graphics cards launched to date, the GTX 1650 lacks dedicated RTX real-time raytracing hardware and tensor cores even though it is based on "Turing". NVIDIA is positioning the card at a starting price of US$149 and expects the card to be capable of Full HD (1080p) gaming with reasonably high settings.
The GeForce GTX 1650 is based on the tiny new "TU117" silicon from NVIDIA. This chip is configured with 896 CUDA cores, 56 TMUs, 32 ROPs, and a 128-bit wide GDDR5 memory interface holding 4 GB of memory that ticks at 8 Gbps, churning out 128 GB/s bandwidth. Not long ago, such specifications were considered quasi-premium for this price segment; that is, until AMD significantly cut prices of its Radeon "Polaris" graphics cards post the crypto-mining crash. The Radeon RX 570 4 GB, going by specifications alone, would qualify as a segment higher than the GTX 1650, but can be had for around the $130-mark from North American retailers.
With a rated power-draw of just 75 watts—half that of the RX 570—most GeForce GTX 1650 graphics cards typically do not need an additional PCIe power connector and can make do with slot power only, which can be useful when upgrading OEM systems that have weak PSUs and possibly lack the power cabling required for higher-end graphics cards. Certain premium factory-overclocked cards based on this chip may at best pack a single 6-pin connector. Display outputs typically only include one DisplayPort 1.4, HDMI 2.0b, and DVI-D each. The chip is endowed with all of the new 10bpc HDR video decoding hardware acceleration introduced with "Turing", so it has a solid resume for your living room.
In this review, we take a look at the Palit GeForce GTX 1650 StormX OC, the company's entry-level GTX 1650 offering with a simple and compact board design, a single fan-heatsink based cooling solution, and all the essentials of this SKU. Unlike other GTX 1650 cards we tested, the Palit GTX 1650 StormX does not have an additional 6-pin PCIe power connector and uses the default board power limit of 75 W—all of which is supplied through the PCI-Express x16 slot. This makes the card an interesting candidate to upgrade an older OEM computer that has a weak power supply or no 6-pin power cable available. As the name suggests, the GTX 1650 StormX OC is still overclocked to a rated boost frequency of 1725 MHz out of the box. Palit is pricing this card at the NVIDIA MRSP of $150.
GeForce GTX 1650 Market Segment Analysis
Price
Shader
Units
ROPs
Core
Clock
Boost
Clock
Memory
Clock
GPU
Transistors
Memory
GTX 1050
$130
640
32
1354 MHz
1455 MHz
1752 MHz
GP107
3300M
2 GB, GDDR5, 128-bit
GTX 1050 Ti
$170
768
32
1290 MHz
1392 MHz
1752 MHz
GP107
3300M
4 GB, GDDR5, 128-bit
GTX 1650
$150
896
32
1485 MHz
1665 MHz
2000 MHz
TU117
4700M
4 GB, GDDR5, 128-bit
Palit GTX
1650 StormX OC
$150
896
32
1485 MHz
1725 MHz
2000 MHz
TU117
4700M
4 GB, GDDR5, 128-bit
RX 570
$130
2048
32
1168 MHz
1244 MHz
1750 MHz
Ellesmere
5700M
4 GB, GDDR5, 256-bit
RX 580
$190
2304
32
1257 MHz
1340 MHz
2000 MHz
Ellesmere
5700M
8 GB, GDDR5, 256-bit
GTX 1060 3 GB
$200
1152
48
1506 MHz
1708 MHz
2002 MHz
GP106
4400M
3 GB, GDDR5, 192-bit
GTX 1060
$200
1280
48
1506 MHz
1708 MHz
2002 MHz
GP106
4400M
6 GB, GDDR5, 192-bit
RX 590
$220
2304
32
1469 MHz
1545 MHz
2000 MHz
Polaris 30
5700M
8 GB, GDDR5, 256-bit
GTX 1660
$220
1408
48
1530 MHz
1785 MHz
2000 MHz
TU116
6600M
6 GB, GDDR5, 192-bit
GTX 1070
$300
1920
64
1506 MHz
1683 MHz
2002 MHz
GP104
7200M
8 GB, GDDR5, 256-bit
Packaging and Contents
You will receive:
Graphics card
Driver disc
Documentation
The Card
The Palit GTX 1650 StormX is an extremely compact design—look at the size of the slot cover to get an idea of how small it is. Dimensions are 15.0 cm long and 10.0 cm high. A backplate is not included, which isn't surprising in this market segment.
Installation requires two slots in your system.
Display connectivity options include one HDMI 2.0b and one DVI port.
Since no DisplayPort is included, you won't be able to pair this graphics card with a VESA Adaptive Sync monitor. NVIDIA enabled support for FreeSync/Adaptive Sync earlier this year, but only for monitors connected via DisplayPort.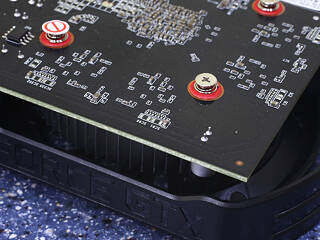 The board uses no additional power connector. This input configuration is specified for up to 75 watts of power draw.
GeForce GTX 1650 does not support SLI.
Disassembly
Palit's heatsink is really simple and cost efficient. It's basically a slab of metal with a fan strapped to it.
On the next page, we dive deep into the PCB layout and VRM configuration.
High-resolution PCB Pictures
These pictures are for the convenience of volt-modders and those who would like to see all the finer details on the PCB. Feel free to link back to us and use them in your articles or forum posts.
High-res versions are also available (
front
,
back
).