The Package
The Parrot AR.Drone ships in a huge cardboard box filled with goodies.
Parrot ships two three cell Li-Po batteries which each drone which provides about 20 minutes of flying time. Lithium-Polymer batteries provide the best capacity to weight ratio so they are a no brainer for the Parrot AR.Drone. Enthusiastd will probably want their own Li-Po balanced charger and more hefty three cell packs.
Closer Examination
The Drone
The AR.Drone looks quite outlandish due to its quad-rotor layout.
The motor assembly is neat. Each of the propellers has its own brushless electrical motor hooked up to it, through a simple gear mechanism. Each of the four motors has its own drive circuitry.
Keeping weight down is paramount on any flying device and the AR.Drone is no different. The rods that hold the rotors and motor assemblies are made from pultruded carbon fiber reinforced rods which are extremely stiff and light.
The front mounted camera is the show piece of the Parrot. It effectively allows you to spy on people and allows you to fly the AR.Drone without line of sight.
Underneath the back panel is the motherboard to which all of the electronics are hooked up to. There are two buttons which allow you to unpair the drone from your device, and switch it from router to ad-hoc mode. There is also a reset button which can be used in case the unit locks up.
Setup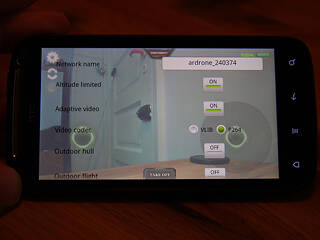 Parrot allows you to tweak the control settings for your drone with ease through an on-screen menu system. Most of the performance aspects can be trimmed and it also allows you to calibrate the controls.