Introduction
Last year AMD released their new Radeon HD 5800 Series of graphics cards which quickly became a big success due to the numerous improvements made over previous generations. Up to now all cards available from all manufacturers were reference design cards which means they were all made to the same specifications, using the same components and then a sticker was added on the cooler depending on the AIB.
Now Powercolor is one of the first AIBs to release a custom designed HD 5870 card that uses both a non-reference cooler and a non-reference PCB design. While this allows for considerable production optimizations and reduce manufacturing cost it also introduces the risk that the product might not work as optimally as intended by AMD.
Powercolor is actually going beyond the reference design specs and offers higher clock speeds of 875 / 1225 vs. 859 / 1200 on the normal cards. While not making a huge difference it should still give a little extra performance boost to the card.
Radeon
HD 4870 X2
GeForce
GTX 285
Radeon
HD 5850
Radeon
HD 5870
Powercolor
HD 5870 PCS+
GeForce
GTX 295
Shader units
2x 800
240
1440
1600
1600
2x 240
ROPs
2x 16
32
32
32
32
2x 28
GPU
2x RV770
GT200b
Cypress
Cypress
Cypress
2x GT200b
Transistors
2x 956M
1400M
2154M
2154M
2154M
2x 1400M
Memory Size
2x 1024 MB
1024 MB
1024 MB
1024 MB
1024 MB
2x 896 MB
Memory Bus Width
2x 256 bit
512 bit
256 bit
256 bit
256 bit
2x 448 bit
Core Clock
750 MHz
648 MHz
725 MHz
850 MHz
875 MHz
576 MHz
Memory Clock
900 MHz
1242 MHz
1000 MHz
1200 MHz
1225 MHz
999 MHz
Price
$350
$350
$310
$400
$410
$520
Packaging
Powercolor's package uses a clean design which does look a bit dull in my opinion, the front conveys all the important product highlights even though the + on PCS Plus (indicating overclocked) is a bit small.
Contents
You will receive:
Graphics card
Driver CD + Quick Install Guide
DiRT 2 coupon
CrossFire bridge
DVI to VGA adapter
The Card
Powercolor's cooler is huge and covers the whole card. You can easily see where the heat pipes are located that help with the heat transfer. However, in my opinion, it can not compete with the looks of AMD's reference design cooler. It should also be noted that the heatpipes add quite a bit of size to the card, which could cause a problem with the side panels in some smaller cases.
Just like the reference design, the card occupies two slots in the system.
The card has two DVI ports, one HDMI port, and one DisplayPort. This is just one of many output configurations that are possible on the new cards, thanks to the overhauled display output logic. Basically the card can drive six TMDS signals that can be combined in any way (a dual-link DVI consumes two TMDS lines).
For HDMI Audio, NVIDIA requires you to feed an external audio source, for example from your motherboard's on-board audio, to the card via SPDIF cable. AMD on the other hand has integrated a sound device inside their GPUs which is the easier solution for most users. Also AMD's integrated sound device has been upgraded to support HDMI 1.3a which includes Dolby TrueHD, DTS-HD, AC-3, DTS and up to 7.1 channel audio with 192 kHz / 24-bit.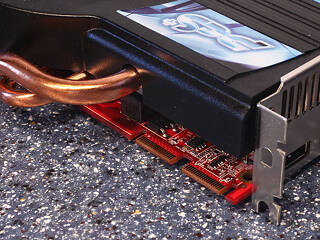 Crossfire configurations are supported to improve performance even further.
Here are the front and the back of the card, high-res versions are also available (
front
,
back
). If you choose to use these images for voltmods etc, please include a link back to this site or let us post your article.