Introduction
First things first, I'd like to thank QNAP for supplying us with the QNAP TS-109 Pro Turbostation.
The QNAP TS-109 Pro Turbostation is a NAS device aimed at home use. It comes packed with many features to replace the average home server while being small and using little power. While aimed to be a storage server (datastorage, web, database) the TS-109 also has features like a DHCP server and printer sharing. The TS-109 doesn't come with a harddisk though, you have to add one yourself. Main storage comes from normal 3.5" SATA disks though you can add an eSATA disk and up to three USB drives (without using hubs). These expansion options make the TS-109 a long term investment.
Features
Create your own File Server in the easiest way
FTP Server simplifies the data sharing
Backup Server with the most professional auto-backup software
Enhanced data protection by optional RAID-1 mirroring
Remote Replication
Establish your interactive Web Server
MySQL Server
Share your printer resource by Printer Server
UPnP Media Server (with built-in TwonkyMedia Server)
Multimedia Station for photo sharing
Enjoy continuous download independent of PC
Share your music by iTunes Server
Application
1x3.5" SATA HD, 1x3.5" eSATA HD, up to 3 USB devices
Weight
1.2 kg (without disk)
Dimensions
210 x 60 x 182 mm
Material
Aluminum
Interface
Gigabit LAN
Power supply
Standard 12V/3A adapter
Power usage
6.6W in sleep mode
14.4W in operation
Supported file systems
FAT, FAT32, EXT3, NTFS (read only)
Packaging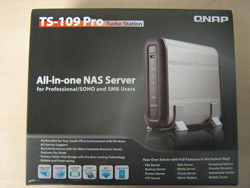 The QNAP Ts-109 Pro Turbostation comes in a small colorful box. On it you find pictures of the unit and a list of features.
The unit comes packed in a plastic bag protected by foam. Next to it is a box with all the goodies.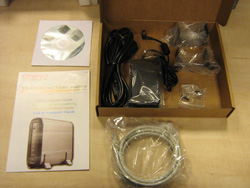 In the box we find an adapter, manual, a short CAT5 cable, two screws, software CD and two brackets to keep the unit standing upright.