Packaging and Contents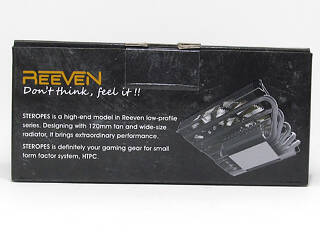 The Steropes being a small cooler, it comes packaged in, you guessed it, a tiny box measuring in at 16.51 cm in length, 13.97 cm in width, and 7.62 cm in height. The top of the box shows off the cooler and Reeven's logo, along with a list of supported CPU sockets. Interesting here is the lack of LGA2011 compatibility even though LGA1366 is listed. The front comes with another image of the cooler which, this time around, puts the base and heatpipes on display, while also explaining the Sterope's purpose as a low-profile cooler. That purpose, as you may have guessed, is to act as a cooler for HTPC and small form-factor (SFF) systems. On the left side is yet another image of the cooler, along with Reeven's website address.
On the back are the cooler's specifications in various languages. The right side again lists all supported CPU sockets, along with a diagram for the cooler's exact dimensions.
Contents
With barely any real protection for the cooler aside from a few cardboard flaps, Reeven's packaging is lackluster. That said, the cooler arrived safe and sound with no dents, dings, or bent fins, which is always nice.
The Steropes comes with everything you need to mount it to nearly any of today's modern sockets, aside from Intel's LGA2011. Some of the assembly work has even been done for you, such as the pre-attached fan and the Intel clips on the mounting arms. This will save users time and makes the cooler a little easier to install.
5x Mounting arm screws
5x Screws of Intel mounting arm clips (4 pre-attached)
4x Mount screws
4x Backplate screws
4x Silicon washers for backplate screws
4x Intel back plate screws
4x AMD back plate screws
2x Intel mounting arms
2x AMD mounting arms
2x Fan clips
1x 120 mm x 120 mm x 12 mm PWM fan
1x Heatsink
1x Packet of thermal compound
1x Installation guide