Packaging
ROCCAT used to love providing somewhat oddly shaped boxes with their mice, but it seems this trend of theirs is dying out. The Kova AIMO arrives in a simple, rectangular cardboard box that doesn't feature any windows, but has a lot of colors, render pictures (the white model naturally has its corresponding color feature on the box), marketing text, and technical specifications. With the box opened, the mouse itself and a carefully wrapped instruction manual present themselves. There are unfortunately no replacement mouse feet included.
Shape
This mouse looks very futuristic at first glance, and it really has a lot going on. The many ledges and buttons here and there result in a very inconsistent shell—at least by the looks of it. That said, when I first held it in my hands, I just couldn't believe my senses because the Kova fit my hand like a glove. None of extra buttons or ledges bother me, but everyone is different, so what works for me may not work for you. For my relaxed claw grip, this shell is just fantastic.
We're talking about a fully symmetrical, ambidextrous gaming mouse with a low profile. It's short on the front and tall in the back (it also flares out), which provides a resting place for your palm. As a point of reference, it very much resembles the feel of the Zowie ZA13 to me. The main side grips are flat and have a few small lips to help you with picking up the mouse. As for the main buttons, they don't seem to have any notable comfort grooves, but are already pretty narrow, so I wouldn't call this a negative.
The mouse is about 131 mm (5.16") long, which means it long; however, that is its total length, meaning the front ledge and cable stress relief is included. It is effectively about 8 mm shorter. Its total width is 66 mm (2.60"), but the width at which it is gripped is more like 57 mm (2.24"). The total height is 38 mm (1.50"), and the hump is at the back. With these dimensions and such a shape, this mouse is extremely versatile, potentially ideal for all grip styles depending on individual preferences. I personally found it to be very comfortable for my 18x9 cm hands with a relaxed claw grip.
Here are a few extra pictures of the mouse: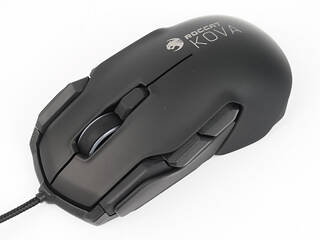 Comparisons
Here are some shape/size comparisons with other mice: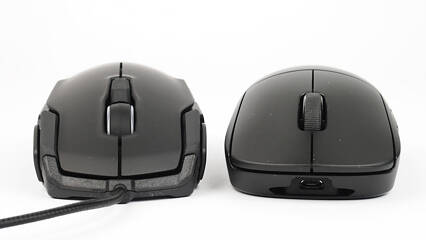 Logitech G PRO Wireless
Logitech G203
SteelSeries Rival 110
Zowie ZA12