Introduction
S3 Graphics is a graphics chips company in California which was founded in 1989. Over the years they produced numerous chipsets like the legendary S3 Trio and S3 Savage GPUs. They were bought by VIA in 2004 and their graphics knowledge was integrated into VIA's IGP chipsets. Their recent line of discrete GPUs is called the "Chrome 400" Series which features DirectX 10.1, Blu-Ray/HD-DVD decoding and HDMI+HDCP support.
Two Chrome 400 products are available at this time: the Chrome 430 GT and the faster Chrome 440 GTX. Both use the same 65 nm graphics chip, but the 440 GTX uses GDDR3 and higher clocks. Both cards are targeted at the entry-level segment, with possible uses in office systems or Home Theater PCs. Even though gaming is supported, don't expect anything beyond basic resolutions at medium detail settings.
S3
430 GT
S3
440 GTX
Radeon
HD 3850
Radeon
HD 3870
GeForce
9600 GT
GeForce
8800 GT
GeForce
9800 GT
Radeon
HD 4850
Shader units
32
32
320
320
64
112
112
800
ROPs
4
4
16
16
16
16
16
16
GPU
Chrome 400
Chrome 400
RV670
RV670
G94
G92
G92
RV770
Transistors
Unknown
Unknown
666M
666M
505M
754M
754M
956M
Memory Size
256 MB
256 MB
256 MB
512 MB
512 MB
512 MB
512 MB
512 MB
Memory Bus Width
64 bit
64 bit
256 bit
256 bit
256 bit
256 bit
256 bit
256 bit
Core Clock
625 MHz
800 MHz
670 MHz
777 MHz
650 MHz
600 MHz
600 MHz
625 MHz
Memory Clock
500 MHz
800 MHz
828 MHz
1126 MHz
900 MHz
900 MHz
900 MHz
993 MHz
Price
$54
$69
$99
$125
$90
$140
$160
$170
Packaging & Contents
The package chosen by S3 is small but stylish. On the back you find all the product highlights. Giving four out of five stars in the gaming category is certainly a bit of an overstatement considering the high-end cards available on the market today.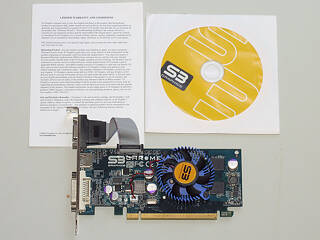 You will receive:
Graphics card
Warranty document + Driver CD
The Card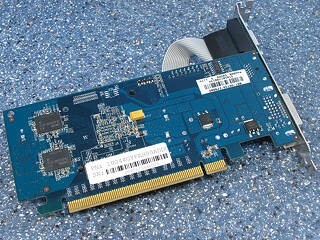 S3 has decided to go with a low-profile card which allows use of the card in small form factor media PCs. If you take a closer look the the PCB design, you will see a very simple cost effective design that does not use complex circuitry for voltages or anything else.
The card has one analog VGA, one DVI and one HDMI port. This configuration is certainly the optimum for a card in this segment. VGA to allow CRT users to use this card without going through the hassle of an adapter. Dual-link DVI for the LCD users and HDMI for all media PC scenarios.
Just like ATI, S3 has integrated an audio device on their card, so your big screen will receive an audio stream from the graphics card without the needs of an external audio in cable.
Here are the front and the back of the card, high-res versions are also available (
front
,
back
). If you choose to use these images for voltmods etc, please include a link back to this site or let us post your article.
A Closer Look
The cooler is really nothing more than a chunk of metal with a fan spinning in the middle. As our temperature tests show later it is absolutely sufficient for this card. However, I would have preferred to see a passive cooler, which I think is very possible given the low heat output of the GPU.
The S3 Chrome 440 GTX does not need any external power source. It draws all power from the PCI-Express bus.
S3 uses GDDR3 memory chips from Samsung with the model number K4J52324QE-BC12 which are exactly the same chips the "big" boys use on many high-end cards. In order to keep the cost reasonable, the memory chips have a slower access time of 1.2 ns (= 833 MHz).
The GPU is among the smallest I have seen in recent times. It is made in a 65 nm process and has a die size of 85 mm².