Introduction
Samsung is one of the largest technology companies in the world. They make pretty much every electronic product you can think of.
Being a leader in DRAM and flash memory production, it comes as no surprise that they are also a player in the SSD business. They are actually one of the biggest players in terms of volume because their drives are used in Sony and Apple products.
Their Samsung 830 Series SSD is not based on the very common SandForce or Marvell controllers. The company uses their own design called S4LJ204X01. This controller is based on a triple core ARM processor, similar to what you have in your smartphone. The flash chips and controller DRAM are also produced by Samsung which means the company has full control over every component in their drive, certainly a unique situation.
The Samsung 830 Series drive is available in capacities of 64 GB, 128 GB, 256 GB and 512 GB.
Specifications: Samsung 830 Series 512 GB
Brand:
Samsung
Model:
830 Series 512 GB
Controller:
Samsung S4LJ204X01
Flash Type:
Samsung MLC, 20 nm
K9UHGY8U7B
Form Factor
2.5"
Capacity
512 GB (476.9 GB usable)
No overprovisioning
Interface:
SATA 6 Gbps
Firmware:
CXM03B1Q
TRIM supported:
Yes
NCQ supported:
Yes
Warranty:
3 Years
Packaging
Samsung's package definitely looks high-end and elegant with its shiny silvery surface.
You will receive:
The SSD
Documentation
Norton Ghost software
3.5" mounting kit
SATA cable
The Drive
The drive conforms to the dimensions set forth by the 2.5" form factor. It is made from metal which improves its durability. Please note that its thickness is down to 7 mm from the regular 9 mm thickness of a drive. Thinner drives are a requirement by Intel's Ultrabook standard, so the 830 Series SSD is ready for these notebooks.
Like most recent SSDs, the 830 SSD uses the SATA 6 Gbps interface. It is compatible with any other SATA standard, but will, in such a case, work at reduced performance.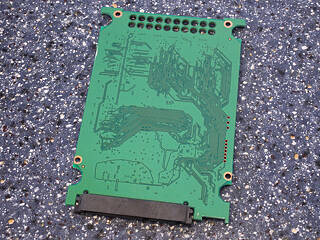 On the PCB you will find the SSD controller in the center surrounded by eight flash chips that are located on both sides on the PCB. The two smaller chips are the DRAM memory for the controller.
Please don't take your drive apart. There are no screws, just plastic clips that will break during disassembly and Samsung will reject your RMA if they spot such a thing.
Samsung is using their own flash controller design that is based on a triple core ARM processor with Samsung's own firmware.
The eight flash chips are produced by Samsung on a 20 nanometer process. It is quite surprising to see 512 Gbit flash chips. It's more common for companies to put 16 256 Gbit chips on a 512 GB SSD.