Introduction
Seagate is one the most well-known names in the storage industry, and their hard drives are used by hundreds of millions of people around the world. Together with Western Digital, Seagate basically owns the market for mechanical hard drives, but that market is under attack from flash-based SSDs. SSDs achieve faster transfer rates and lower access times than hard drives because of their solid-state nature without any moving parts. On the other hand, the price per GB for SSDs is higher than with HDDs, but prices have been steadily coming down over the years, which is now driving more and more budget-minded people into exploring what SSDs can offer over mechanical drives.
Today, we are reviewing the Seagate FireCuda 510 SSD, which was announced at CES this year. The drive uses the M.2 form factor with support for NVMe 1.3 over the fast PCI-Express 3.0 x4 interface. Under the hood, the FireCuda 510 uses a Seagate flash controller which is actually a rebranded Phison PS5012—a model with a good track record we've seen on several other SSDs before.
Seagate has paired their controller with 1 TB of 3D TLC NAND flash from Toshiba, and 1 GB of DDR4 DRAM for the SSD controller's mapping tables. The FireCuda 510 is available in capacities of 500 GB (unknown), 1 TB ($170, this review), and 2 TB ($340). Endurance is rated at 650 TB, 1.3 PB, and 2.6 PB respectively.
Specifications: Seagate FireCuda 510 SSD
Brand:
Seagate
Model:
ZP1000GM30001
Capacity:
1000 GB (931 GB usable)
24 GB additional overprovisioning
Controller:
Seagate STXYP016C031
rebranded Phison PS5012-E12
Flash:
Toshiba 64-layer 3D TLC BiCS3
TABBG55AIV
DRAM:
2x 512 MB SK Hynix DDR4-2400
H5AN4G8NBJR-UHC
Endurance:
1,300 TBW
Form Factor:
M.2 2280
Interface:
PCIe Gen 3 x4, NVMe 1.3
Device ID:
Seagate FireCuda 510 SSD ZP1000GM30001
Firmware:
STES1020
Warranty:
5 years
Price at time
of review:
$170 / 17 cents per GB
The Drive
The drive uses the M.2 2280 form factor, which makes it 22 mm wide and 80 mm long.
Like most M.2 NVMe SSDs, the Seagate FireCuda 510 connects to the host system over a PCI-Express 3.0 x4 interface.
On the PCB, you'll find four flash chips, the controller, and two DRAM chips.
Seagate rebranded a Phison PS5012-E12 controller; it uses eight flash channels and supports 3D TLC, QLC, and PCI-Express 3.0 x4. It is produced on a 28 nm process at TSMC Taiwan.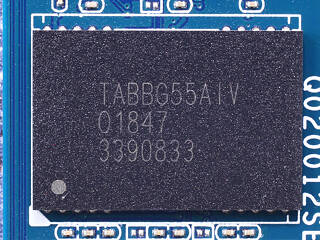 The four TLC flash chips are made by Toshiba, built using 64-layers on a 15 nanometer 3D NAND production process.
Two SKhynix DDR4-2400 chips provide a total of 1 GB of fast DRAM storage for the controller to store the mapping tables in.
Test Setup
Test System SSD 2019
CPU:
Intel Core i7-7700K 4.2 GHz
(Kaby Lake, 8 MB Cache)
Motherboard:
Intel Z270
Memory:
16 GB DDR4-3200
Dual Channel, 16-16-16-36
Graphics:
GeForce GTX 1660
Software:
Windows 10 Pro 64-bit
October 2018 Update
Synthetic Testing
Tests are run with a 20-second-long warm-up time (result recording starts at second 21).
Between each test, the drive is left idle for 60 seconds to allow it to flush and reorganize its internal data.
All write requests contain random, incompressible data.
Disk cache is flushed between all tests.
M.2 drives are tested with a fan blowing on them; that is, except for the results investigating uncooled behavior on the thermal testing page.