Efficiency
Using the efficiency results from the previous page, we plotted a chart showing efficiency of the G-550 at low loads and at loads equal to 20% -110% of the PSU's maximum-rated load.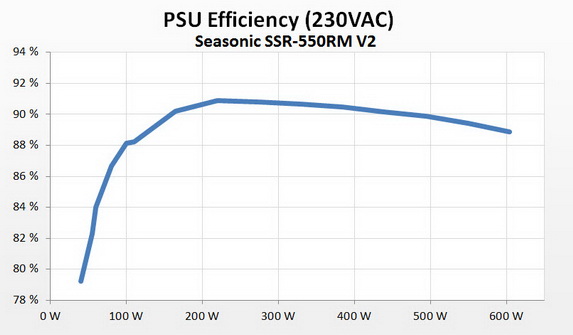 On par with the old G-550 by remaining above 90%, the new G-550 easily took the lead from its older sibling with low loads.
Efficiency at Low Loads
The next tests measure the efficiency of the G550 at loads much lower than 20% of its maximum-rated load (the lowest load the 80 Plus Standard measures). The loads we dialed were 40 W, 60 W, 80 W, and 100 W (for PSUs with over 500 W of capacity). This is important for settings where the PC is in idle mode with Power Saving turned on.
Efficiency at Low Loads - Seasonic SSR-550RM V2
Test #
12 V
5 V
3.3 V
5 VSB
Power
(DC/AC)
Efficiency
Fan Speed
Fan Noise
PF/AC
Volts
1
1.805A
1.956A
1.955A
0.194A
39.69W
79.22%
755 RPM
30.3 dBA
0.817
12.264V
5.103V
3.373V
5.042V
50.10W
230.2V
2
3.358A
1.960A
1.955A
0.395A
59.73W
84.00%
755 RPM
30.3 dBA
0.891
12.257V
5.101V
3.370V
5.035V
71.11W
230.2V
3
4.914A
1.962A
1.956A
0.595A
79.78W
86.65%
755 RPM
30.3 dBA
0.930
12.250V
5.099V
3.369V
5.028V
92.07W
230.2V
4
6.470A
1.962A
1.957A
0.796A
99.81W
88.16%
755 RPM
30.3 dBA
0.951
12.244V
5.098V
3.368V
5.020V
113.22W
230.2V
Efficiency at low loads was significantly higher than with the older model. The changes Seasonic made to the G-550 obviously focused on improving performance at low loads.
5VSB Efficiency
The ATX specification states that 5VSB standby supply efficiency should be as high as possible and recommends 50% or higher efficiency with 100 mA of load, 60% or higher with 250 mA of load, and 70% or higher with 1 A or more of load.
We will take four measurements: one at 100, 250, and 1000 mA, each, and one with the full load the 5VSB rail can handle.
5VSB Efficiency - Seasonic SSR-550RM-V2
Test #
5VSB
Power (DC/AC)
Efficiency
PF/AC Volts
1
0.102A
0.52W
65.82%
0.041
5.053V
0.79W
231.1V
2
0.252A
1.27W
71.35%
0.090
5.048V
1.78W
231.0V
3
1.002A
5.04W
76.83%
0.254
5.028V
6.56W
230.5V
4
2.502A
12.49W
77.77%
0.364
4.992V
16.06W
230.7V
5VSB efficiency might not be impressive, but is still decent for a PSU of this category.
Power Consumption in Idle & Standby
In the table below, you will find the power consumption and the voltage values of all rails (except -12V) when the PSU is in idle mode (powered on but without any load on its rails) and the power consumption when the PSU is in standby mode (without any load at 5VSB).
Idle / Standby - Seasonic SSR-550RM-V2
Mode
12 V
5 V
3.3 V
5VSB
Power (AC)
PF/AC Volts
Idle
12.280V
5.115V
3.384V
5.055V
8.49W
0.327
230.4V
Standby
0.16W
0.006
231.1V
The G-550 consumes very little power in stand-by, so it plays its part in protecting the environment by wasting hardly any energy at all.
Fan RPM, Delta Temperature & Output Noise
The cooling fan's speed (RPMs) and the delta difference between input and output temperature are illustrated in the following chart. The following results were obtained at 38°C-45°C ambient.
A chart that shows the cooling fan's speed (RPMs) and the output noise follows. We measure the fan's noise from 1 meter away, inside a small custom-made anechoic chamber whose internals are completely covered in specialized soundproofing material (
Be Quiet! Noise Absorber Kit
). Background noise inside the anechoic chamber was below 20 dBA during testing, and the results were obtained with the PSU operating at 38°C-45°C ambient.
The following graph illustrates the fan's output noise throughout the entire operating range of the PSU. The same conditions of the above graph apply to our measurements, but the ambient temperature was between
28°C and 30°C
.
The G-550 is silent with loads up to 250 W while operating normally, but the fan increases in speed and noise after that. We think Seasonic could afford it a quieter operation by relaxing the fan profile or using a lower RPM fan.