A Closer Look - Inside
Silverstone has lined the insides of the side panel with thick sound-dampening material to minimize the noise that may escape the chassis. Taking a first look at the interior the K07, it is quite simple as it lacks any of the traditional drive bays within. Turn it around and where you may place 2.5'' or 3.5'' storage drives becomes apparent.
There are three 2.5" drive trays attached to the backside of the motherboard tray. While they look and feel a bit fragile, they do allow for a completely tool-less addition of storage drives. Silverstone has also added two Velcro strips to keep any cables in place behind the motherboard tray, which is certainly a nice touch.
Within the KL07, you will find a sturdy metal shroud covering the PSU bay and hiding the 3.5" drive cage. While this is quite a nice feature, especially for cases with windows, its usefulness is somewhat diminished in the Kublai chassis as it comes with a solid side panel. Taking a quick peek at the ceiling, you will notice the space between the motherboard and these mounting holes; you should have no issues installing a 280 mm radiator here.
Underneath the shroud are three 3.5" drive trays you may move to the right by about 2.5'' should you want to install a 360 mm large radiator into the front of the chassis. To allow for this format, there is an opening in the shroud with a metal cover that may be taken out by removing a few small screws.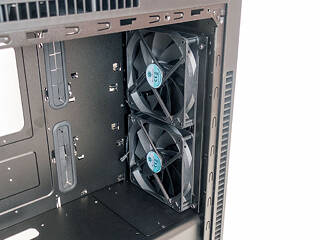 Above the shroud in the front are two 140 mm fans, which are actually placed on a bracket that may be taken out. This allows you to install a 280 mm liquid-cooling setup with relative ease - simply slide the whole contraption into place and use the thumb screws to secure the bracket.
The PSU bay underneath the shroud offers up to 200 mm of space for power supplies, which turns into a mere 140 mm should you choose to move the hard-drive cage over. Doing so means that you will have to get creative when it comes to picking your power supply. Above that are the seven expansion slots with their locking mechanism outside of the chassis. In the very top, you will find the third 140 mm fan; it is set to push air out the back.
All the cables within the KL07 are of the standard variety and feature black sleeving. There are two USB 3.0 connectors, so make sure your motherboard offers two headers to make full use of the I/O on top of the chassis.