Introduction
Founded in 1999, Thermaltake is a PC case, power supply, and peripherals company based in Taiwan. The ARGENT M5 Wireless RGB is part of an entire line of products consisting of a mouse bungee, mouse pad, headphones, headphone stand, and a wired variant of the M5 RGB. Capable of either wired, 2.4 GHz, or Bluetooth operation, the ARGENT M5 Wireless RGB is capable of up to 100 hours of battery life without illumination in 2.4 GHz mode and up to 200 hours using Bluetooth. The ARGENT M5 Wireless RGB is symmetrical, which means it has side buttons on both sides, and its button layout can be reversed in the software, enabling left-handers to use it normally. Through the software, several RGB lighting effects can be set up and synchronized with other ARGENT devices, including Razer Chroma enabled ones. The sensor is PixArt's PAW3335 capable of 16,000 CPI, and the scroll wheel is made out of aluminium for better durability and grip.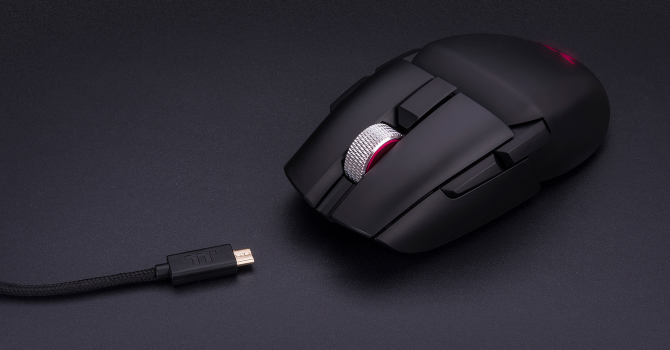 Specifications
Thermaltake ARGENT M5 Wireless RGB
Size:
128 mm x 64 mm x 37 mm
Size (inches):
5.04" x 2.52" x 1.46"
Ambidextrous:
Yes
Weight:
118 g
Number of Buttons:
8 (including wheel click)
Main Switches:
Omron D2FC-F-K (50M) (China)
Wheel Encoder:
Mechanical
Sensor:
PixArt PAW3335
Resolution:
100–16,000 CPI
Polling Rate:
125/250/500/1000 Hz
Cable:
1.80 m, braided
Software:
Yes
Price:
$89.99
Warranty:
2 years
The ARGENT Series
MB1 Mouse Bungee
Over the past years, mouse bungees have become a staple on many gamer desks. In theory, a mouse bungee is pretty straightforward: It is supposed to elevate the mouse cable. To that end, the cable is clipped into a mount, which should be somewhat elastic to ensure mouse movement isn't restricted too much. Unfortunately, the MB1 provides neither. Just 6 cm tall, it simply fails to provide sufficient elevation, and a flexible mount is absent altogether. The construction is very solid, and the RGB lighting is a nice touch, but if a mouse bungee fails to serve its primary purpose, it is of little merit, especially when priced at $29.99.