Introduction
Zotac is well known for their graphic cards and their ITX mainboards for all types of platforms. They are one of the few to offer both 775 and AM2 based mini-ITX boards. With the rise of the Atom in combination with the ION chipset from NVIDIA the company is offering various ION based boards ranging from "A" to "F" with either single or dual core Atoms along, each with their own set of unique features.
Now, Zotac is going a step further and is entering the Nettop market with their Zotac MAG. The unit is based on the Atom 330 coupled with NVIDIAs ION plattform. One of the most interesting aspects is the low MRSP of 249 €
Zotac
MAG
Acer Aspire
Revo R3600
ASRock
ION 330
Lenovo
IdeaCentre Q110
CPU
Atom 330 2 x 1.60 GHz
Atom 330 2 x 1.60 GHz
Atom 330 2 x 1.60 GHz
Atom 230 1 x 1.60 GHz
Chipset
NVIDIA ION
NVIDIA ION
NVIDIA ION
NVIDIA ION
Hard Drive
160 GB 5400 RPM
320 GB 5400 RPM
320 GB 5400 RPM
160 GB 5400 RPM
Optical Drive
N/A
N/A
DVD-RW
N/A
Memory Size
2048 MB
4096 MB
2048 MB
2048 MB
Wireless
WLAN 802.11b/g/n
WLAN 802.11b/g
N/A
N/A
I/O
VGA, HDMI, eSATA,
SPDIF, Mic/Headset,
6x USB 2.0, Ethernet
VGA, HDMI, eSATA,
Mic/Headset,
6x USB 2.0, Ethernet
VGA, HDMI, eSATA,
SPDIF, Mic/Headset,
6x USB 2.0, Ethernet
HDMI, Headset,
4x USB 2.0, Ethernet
Card Reader
SD, MMC, MS,
MS Pro, xD
SD, MMC, MS,
MS Pro, xD
N/A
N/A
Dimension (D x H x W)
186 x 189 x 38 mm
180 x 180 x 30 mm
186 x 195 x 70 mm
156 x 176 x 20 mm
Price*
249 €
349 €
279 €
299 €
*MSRP shown, retail may be a bit cheaper - especially online shops.
Packaging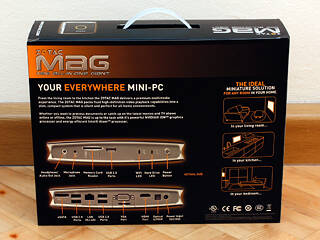 Zotac ships the MAG in a sleek cardboard box with a plastic handle. The unit is small enough, so that you can carry it and all the contents home in such a compact package. As expected, the black and orange color theme is clearly visible and the AMP! font has been used to spell out "MAG". The front of the box only has an image of the Nettop. Turning the package over, we can read up on the unit and its features in greater detail. Zotac has also included two images with all the connectors of the MAG. For those, who care about the specifications, they are located on the side.
The inner package is black and simply reads "Zotac MAG - mini all-in-one giant". If I did not know better, I would expect a mini hulk to jump out of the box by now.
Contents
You get the usual pair of manual & drivers/application CD with the MAG. The manual is well written and holds all the necessary information to get the unit up and running. Zotac has chosen to ship the unit without an OS, which allows for the cheap price, but they may offer it with Linux instead. So you are left to fend your own battle to get everything up and running. Luckily - as we will see later on - this is an easy task.
A weight down stand is also part of the accessories, along with four screws and a VESA mount. With this plastic contraption, you can hang the MAG off the back of your flat screen TV or monitor. My TV has VESA 100 x 200 mounting holes, thus I was not able to do so.
The included power supply is rated for 19V at 3.42 A which translates to around 65 W. This is more than enough for the ION platform as we will see during our power tests. The upside of such a unit is the high efficiency when compared to normal PSUs.