Packaging and Contents
The box the Zotac ZBOX CI660 nano comes in features an image of the system on the front and mentions that it is in fact a barebones offering. Thus, users are responsible for the memory, storage, and operating system. On the left side, we are asked "why not both" in regards to a mini-PC or compact desktop with Zotac gleefully shouting in large bold text that they made the original mini-PC.
Moving on to the back, we find a few images detailing the various I/O ports, along with some information on the system's features. Those features are its passively cooled design, 8th generation Intel processor, and 4K @ 60Hz display outputs, etc. Moving on to the right side, you will see the system specs along with the various ways in which you can position or mount the system. The biggest eye catcher here is, of course, Zotac's use of an i7-8550U processor since most other specifications are up to the end user.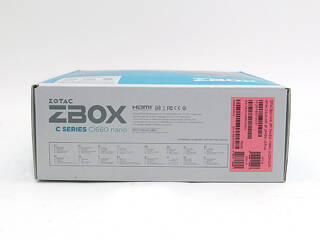 The top again lists a few features and specifications but little else, while the bottom lists what is included in the box.
Opening the box shows the Zotac ZBOX CI660 nano wrapped in a thin foam bag and placed in a cardboard tray. The power supply is in the smaller box off to the side. Included in the box are, of course, the usual manuals as well.
Overall, the bundle is very spartan with only the bare essentials necessary having been included. However, this makes perfect sense considering the unit is a barebones offering. Still, Zotac made sure to include a VESA mounting plate with screws along with a USB thumb drive that contains all the necessary drivers.
CI660 nano system
Power brick
VESA mounting plate
VESA screws
USB thumb drive with drivers
Wireless antenna