Wednesday, April 25th 2012
Freecom, part of the Mitsubishi Chemical Holdings Group and award-winning manufacturer of external hard drives and portable storage devices, today unveiled the Hard Drive Sq, a 3.5" external hard drive with an innovative square form factor. With its unique appearance and state-of-the-art technology, the Hard Drive Sq strikes a perfect balance between elegant design and practicality. In addition to being able to back up and store files on a computer, the drive connects directly to a TV set for USB recording and playback, enabling users to store and watch their favourite shows quickly and easily.
"With the Hard Drive Sq, you can really put the information you need at your fingertips – whether it is on your PC, laptop of even a TV screen," said Cas de Heus, marketing and communications manager EUMEA at Freecom. "From a practical point of view, the Hard Drive Sq is everything you would expect from a high-quality external hard drive in that it is fast, easy to use and visually stunning – but the ability to plug it into a TV set gives it an additional edge. People are changing the way that they watch television and with so much great content to choose from, many are opting to record and playback the programmes that they would most like to watch. The Hard Drive Sq enables users to make the most of this by reliably expanding their TV's storage capacity."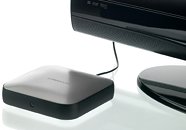 The Hard Drive Sq is the latest addition to Freecom's family of 'Sq' products, which also includes the Mobile Drive Sq. The innovative design of the Mobile Drive Sq – which shares the same square form factor with the Hard Drive Sq – has already been recognised with three prestigious international design awards; the iF Design Award 2012 GOLD, the Universal Design Award 2012 and the Reddot Design Award 2012. The Hard Drive Sq is already following in the footsteps of the Mobile Drive Sq, having recently been awarded a Reddot Design Award 2012.
Designed in collaboration with acclaimed industrial designer Arman Emami, the Freecom Hard Drive Sq is encased in an aluminium enclosure that makes it less susceptible to fingerprints and scratches. A surrounding plastic trim protects the drive against impact and the combination of a thin metal surface with a plastic core creates a compound that is sleek, durable and lightweight.
Available in 1TB, 2TB and 3TB storage capacities, the Hard Drive Sq has a USB 3.0 connection that enables users to transfer data at speeds of approximately 130 MB/s – making it perfect for business and home users who want to back up and store content quickly. The drive is also backwards-compatible with USB 2.0, so users can simply plug it into any PC or Mac and drag and drop files to easily share data with friends, family and colleagues.