Tuesday, January 8th 2013
TRENDnet, a best-in-class wired and wireless networking hardware brand, today announces, from 2013 International CES in Las Vegas, Nevada, two new compact wireless extenders- the N300 Nano Easy-N-Range Extender, model TEW-717HRE and the N150 Nano Easy-N-Range Extender, model TEW-713RE.
This series of wireless extenders are so small, they simply plug directly into an electrical outlet, thereby reducing clutter. Their off white housing blends into most backgrounds. No CD installation is required. Simply plug in the adapter, press your router's Wi-Fi Protected Setup (WPS) button, then press the WPS button on the extender. The extender automatically adopts the wireless name and password of the connected router.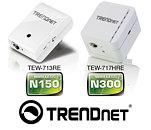 TEW-717HRE
N300 Nano Easy-N-Range Extender
Extends the range of an existing wireless network
Helps eliminates wireless dead spots
300 Mbps wireless n
One touch wireless setup using the WPS button
MIMO antenna technology provides extensive coverage
Advanced wireless encryption
TEW-717HRE Availability: May, 2013
TEW-717HRE MSRP U.S.: $59.99
TEW-713RE
N150 Nano Easy-N-Range Extender
Extends the range of an existing wireless network
Helps eliminates wireless dead spots
150 Mbps wireless n
One touch wireless setup using the WPS button
Advanced wireless encryption
TEW-713RE Availability: April, 2013
TEW-713RE MSRP U.S.: $44.99