Monday, July 15th 2013
Sapphire's Radeon HD 7990 Atomic made its
first appearance
at Computex, early last month. While launch of the card itself is less than a few weeks away, pictures of its PCB and cooling solution made it to the web. Its PCB, pictured below, features a pair of 28 nm "Tahiti XT2" GPUs, a total of 6 GB of GDDR5 memory, and a PLX PEX8747 PCI-Express gen 3.0 x48 bridge chip, powered by a gargantuan 18-phase VRM that draws power from three 8-pin PCI-Express power connectors.
Each GPU system hence gets a 6+2+1 phase power supply (Vcc+VDDCI+MVDD). The Vcc phases appear to consist of two 50A chokes per phase, and driver-MOSFETs; while the ancillary phases use more conventional LFPAK MOSFETs. Tantalum capacitors handle most electricals on this 12-layer PCB. The PCB features two sets of video BIOS for each GPU. Display outputs include six mini-DisplayPort connectors. The card can pair with any other Radeon HD 7900 series card using CrossFireX.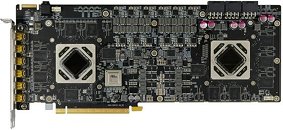 Moving on, the cooling solution of the Radeon HD 7990 Atomic consists of an almost DIY-looking liquid cooling loop, consisting on a full-coverage block, a 120 x 240 mm radiator, and a reservoir+pump with coolant ports. A pair of 120 mm, 1,200 RPM fans are included with the radiator.
Source:
Expreview