Monday, October 27th 2014
Apacer's UrKey USB dongles use their exclusive CoreSecurity Technology for SSD core data security tailored for customers' system design and use. The newly launched UrKey USB dongle can trigger, enable or remove the three major special security instructions of CoreSecurity through its usb-based 2-way dongle. These include CoreEraser, CoreDestroyer and CoreProtector, which deliver quick erase, full erase and security protection that will facilitate data security and increase storage reliability. The UrKey technology acts as a literal key for computer security. Once inserted in the preset USB slot, it will easily activate any CoreSecurity function and quickly ensures security protection.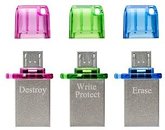 Specifically, the UrKey acts as a token for activating or triggering security functions. The UrKey is pre-programmed with the designated Apacer security features of Erase, Destroy, or Write Protect, depending on the specific request. Each UrKey is unique to its paired SSD due to the identification recognition process. In other words, the identifications between the UrKey and the SSD have to match in order to trigger the security feature. If the UrKey is connected with another SSD, the drive's firmware will not be able to recognize the ID and thus there will be no function triggered.