Friday, April 26th 2019
I'll abstain from commenting and just let you guys sort this news piece out: internet service provider Cox has introduced a new fast lane option to their internet service. Dubbed the "Elite Gamer" add-on, the optional $15 service will work to ensure gamers get the best possible experience in their favorite multiplayer games. According to Cox, this "hidden" fastlane for internet traffic will be routed through a gaming-centric routing network, which will allow for up to "34 percent less lag, 55 percent fewer ping spikes, and 45 percent less jitter" than its existing internet service.
Apex Legends, Fortnite and Overwatch are the current games being touted as having specific routing pathways, and this will work with absolutely no input from the user. Data packets from these applications will be automatically sorted and rerouted through Cox' servers, which also means that this service does exactly - and limitedly - what it aims to. There will be no other improvements to the overall "interneting" experience: it's a cool $15 for what amounts to (prospectively) higher K/D ratios. It remains to be seen what impact this actually has in the competitive scene, and whether or not the listed games' lag compensation techniques serve to even the playing field somewhat. Let me throw a small wrench into the equation here: more services like this will eventually appear, which may or may not be specifically geared towards gaming. Nothing prevents ISP's from creating application or content-specific data caps, for which you'll then have to purchase data bundles or subscription services (this happens in Portugal already, but it's mostly limited to mobile bandwidth). A bright, split-lane future awaits all of us.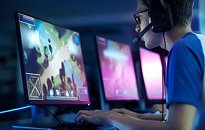 Source: via Tom's Hardware