Wednesday, October 17th 2007
G.Skill International Enterprise, the professional provider in high performance memory module, today unveiled 4GB DDR2-800 CL4 set - F2-6400CL4D-4GBPK.
Low latency is the great factor that affects the memory performance. Nowadays, the CPU is much faster than memory. The CPU has to wait for a relatively long time for a memory access to complete before it can process the data. Low latency memory can break the system performance bottleneck.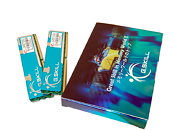 Especially, if your computer files are not big and consistent, low latency can really have the big advantage in performance improvement. For the serious gamers, F2-6400CL4D-4GBPK is your best choice. You will not be beaten as the system lag.
Memory capacity is the other key factor for performance. High capacity memory is perfect for digital image and video editing. Your system can use the memory as the hard disk read/write buffer. It saves your time to wait video composing.
DDR2-800 CL4 PK Series Features:

Guaranteed clock speed of 800MHz (PC2-6400)
Low latency settings of 4 (CL), 4 (TRCD), 4 (TRP), 12 (TRAS)
Lifetime warranty
Part number: F2-6400CL4D-4GBPK - A matching pair of 4GB kit (2 x 2GB modules)
This module will be available through G.Skill's authorized resellers and distributors worldwide. For more information and specifications of the new PK series products, please visit
http://www.gskill.com/en/ddr2.html
.Source:
G.Skill