Futuremark PCMark Vantage
Futuremark PCMark Vantage v1.2.0
March 4th, 2013
-
What's New
667.1 MB

PCMark_Vantage_v120_installer.exe

5F870E623EE401F2EE453316DFC4C436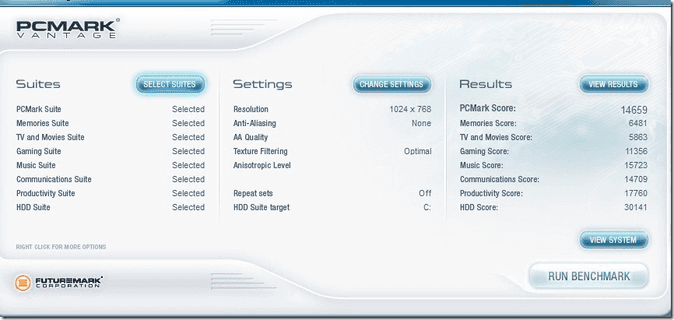 Downloaded:
23,028 times (14.7 TB)
PCMark Vantage is the first objective hardware performance benchmark for PCs running 32 and 64 bit versions of Windows Vista™. PCMark Vantage provides the PC industry, IT media, and consumers with an overall PCMark performance score based on Windows Vista application tests, single and multi threaded CPU, graphics and hard disk drive (HDD) tests. Additionally, in a departure from previous versions of the product, PCMark Vantage shifts its focus from only providing pure hardware performance-analysis results, to generating accurate performance ratings based on popular Windows Vista Consumer Scenarios ranging from media and entertainment to productivity and communication. PCMark Vantage incorporates an updated interface with easier access to test details and selections, results, system info and other features. For PCMark Vantage to run you MUST have Windows Vista. System Requirements
Processor

Modern processor with SSE2 support
Intel Pentium 4 at 3.0GHz or equivalent AMD processor
Multi-core processors recommended

Graphics Card

Shader Model 2.0 compliant graphics card.
Shader Model 3.0 compliant graphics card for the GPU image manipulation test
256MB of graphics memory for the GPU gaming test recommended

Hard Disk

1.7GB of hard disk space
NTFS File System

System Memory
Operating System

Microsoft Windows Vista® Ultimate / Home Premium / Home Basic / Enterprise / Business

Other

Windows Media Player 11
Latest DirectX Update for Windows Vista
Microsoft Internet Explorer 7
Version History
v1.2.0
(March 4th, 2013)
Improvements
Trial edition removed. PCMark Vantage Basic Edition is now free and can be run an unlimited number of times without registration or restrictions.
The benchmark no longer tracks application focus, which helps avoid unintentionally ending the benchmark run. Using the PC for other tasks while running the benchmark will influence the benchmark score and should still be avoided.
 Compatibility
Now compatible with Windows 8, however, the TV and Movies suite requires DVD playback capability (MPEG2) which is not available in Windows 8 by default. The missing functionality can be added by purchasing the Windows 8 Media Center Pack from Microsoft. Without the Media Center Pack the TV and Movies suite is skipped with a score of 0.
Windows Mail test now works in Windows 8.
SystemInfo updated to version 4.15 for Windows 8 compatibility.
 Advanced and Professional Editions
Fixed issues with opening savedbenchmark result files.