NVIDIA DLSS DLL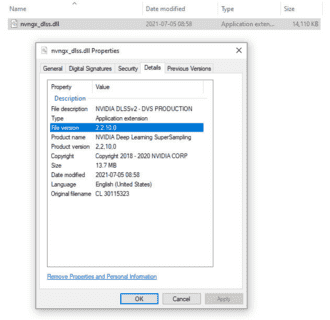 Downloaded:
135,800 times (1.1 TB)
This download provides various versions of NVIDIA's DLSS DLL for download.
In this one file, which is bundled with all games that support NVIDIA's Deep Learning Super Sampling Technology, all relevant DLSS algorithms are contained. Newer versions of DLSS usually bring improvements in image quality, performance, or both.
It is possible for game modders to "upgrade" the DLSS version of many games, simply by replacing its nvngx_dlss.dll with a newer version, which you can download on this page.
Go to your game's folder, looks for a file "nvngx_dlss.dll", and overwrite it with the downloaded file. Be sure to backup your original file before replacing it. DLSS 2.x files are not interchangable with DLSS 1.x versions.
All files are digitally signed with NVIDIA's signature, so you can be sure they are unaltered.
If you have an nvngx_dlss.dll version not listed here (Right click your file - Properties - Details - File version), then please submit it to us at w1zzard@techpowerup.com