ThrottleStop 8.70
September 11th, 2018
-
What's New
221.4 KB

Win 10, 8, 7 (32-bit & 64-bit)

ThrottleStop_870.zip

18BBA176E85C7A2398C94A379B07DF0E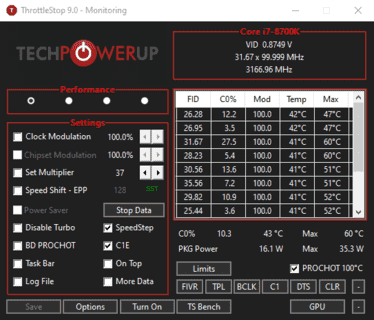 Downloaded:
1,869,671 times (780.9 GB)
ThrottleStop is a small application designed to monitor for and correct the three main types of CPU throttling that are being used on many laptop computers.

The left side of ThrottleStop contains a variety of options which can be used to bypass CPU throttling and on the right side is a Monitoring panel that shows you the current state of each thread on your CPU.

Some laptops are using clock modulation and multiplier reductions to lower the performance and power consumption of your computer. This is done deliberately to either allow your computer to run cooler or to allow your laptop to operate with a power adapter that is not sufficient to fully power your laptop and recharge its battery at the same time.

When using ThrottleStop, it is strongly recommended to monitor power consumption at the wall with a Kill-a-Watt meter or similar device and make sure that you don't exceed the power capabilities of your power adapter. Use of ThrottleStop to bypass these throttling schemes is at your own risk and can result in permanent damage to your power adapter or computer or both which may not be covered by your warranty.
Version History
8.70
(September 11th, 2018)
improved WinRing0 security and memory access by Sam Haskins.
ability to disable and lock the memory mapped turbo power limits.
added IccMax adjustment.
fixed FIVR voltage names for Skylake and newer CPUs.
regular system tray CPU temperature updates in Stop Data mode.
single click system tray icons and new Logo Min option.
smaller Turbo Power Limits window.
8.60
(May 2nd, 2018)
Papusan inspired small footprint edition.
compatible with Windows 10 April Update, Version 1803 Build 17134.1
removed expiry date.
redesigned TS Bench test.
compiled with Visual Studio 2013. 
Microsoft vcredist_x86.exe download link included if needed.
re-release of ThrottleStop 8.50 with expiry date removed.
8.50
(November 1st, 2017)
Initial Goldmont Apollo Lake support.
Ability to disable notification area icon.
Double click to toggle mini mode option.
Expiry date extended to January 2019.
8.48
(April 5th, 2017)
special OBSIDIAN-PC edition.
enable Kaby Lake Limit Reasons reporting.
improved Skylake and Kaby Lake U CPU BCLK and multiplier reporting.
previous Start/Stop Monitoring status applied at start up.