Joined

Nov 9, 2008
Messages

2,212 (0.47/day)
Location

Texas
| | |
| --- | --- |
| System Name | Mr. Reliable |
| Processor | Ryzen R7 5800x |
| Motherboard | Asus Crosshair VIII Hero - Wifi |
| Cooling | D5 Pump, Singularity Top/Res, 3x360mm EK P rads, EK Velocity/Vector Blocks, 10 x QL120 fans |
| Memory | 32Gb (4x8Gb) Corsair Dominator Platinum 3600Mhz @ 16/19/20/36 1.35v |
| Video Card(s) | 2080ti FE with EK Vector Block |
| Storage | 2 x Corsair Force MP400 1TB Nvme; 2 x Mushkin Reactor 1TB |
| Display(s) | Acer 32" Z321QU 2560x1440; Acer XR341CK 34" 3440x1440 |
| Case | Lian Li PC-011 Dynamic XL; Synology DS218j w/ 2 x 2TB WD Red |
| Power Supply | EVGA SuperNova 850G3 |
| Mouse | Razer Basilisk V2 |
| Keyboard | Corsair K95 Platinum; Razer Orbweaver Chroma |
| Software | Windows 10 Pro |
Well, I finally made the switch back to AMD, so I thought I would post a couple of pics of the rig, and a little story about my "boost controversy" experience. Here is the rig, in all her glory: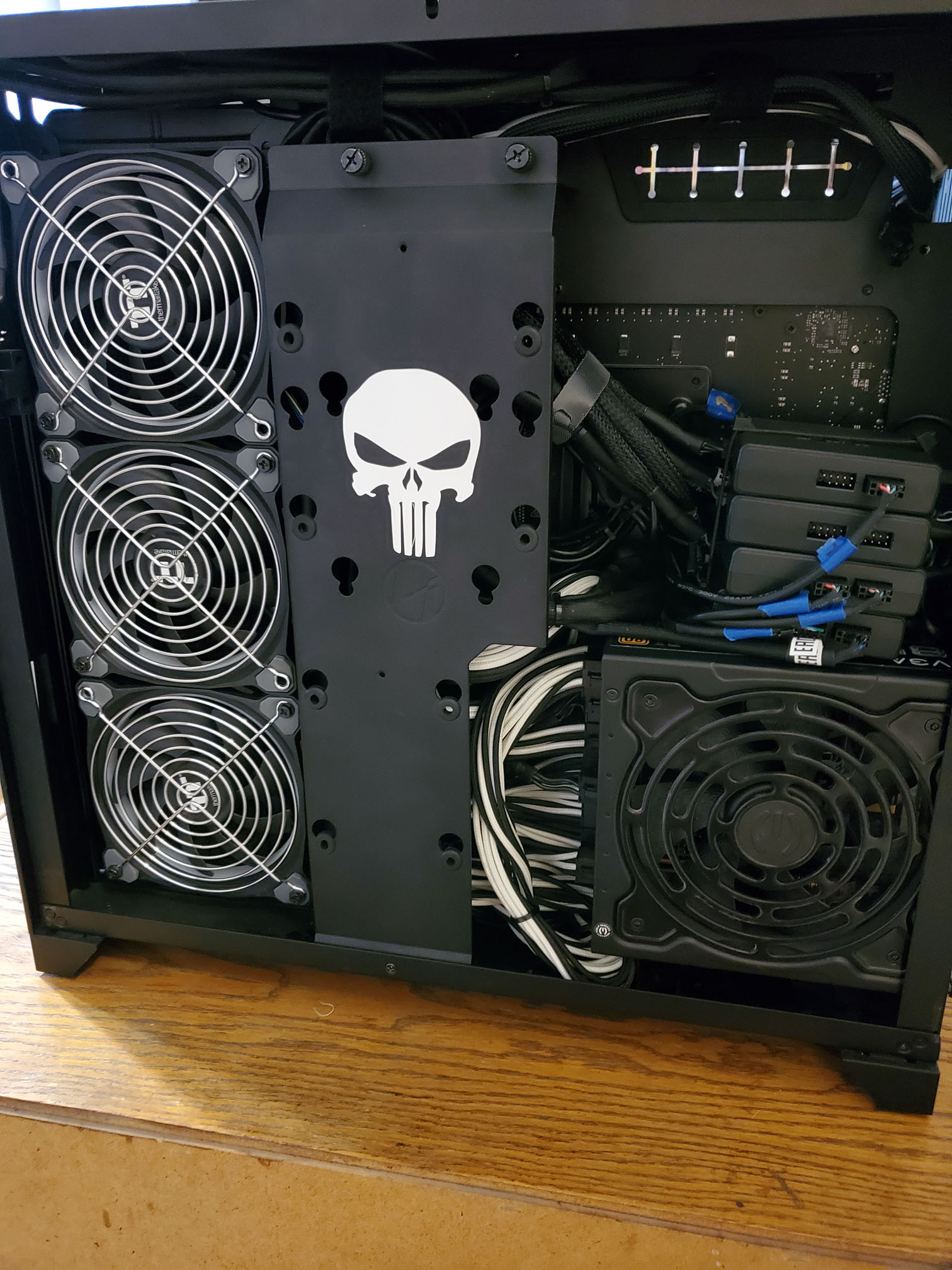 So, first of all, the build experience was absolutely flawless. The GSkill Trident Z Neo RAM booted first time after setting it to default settings, with the advertised speed and timings (and ran even better once the I used the Ryzen RAM Calculator and plugged in those timings). Got the OS installed, all the current BIOS and drivers, and noticed, like everyone else, that my boost speeds were not as advertised...not even close.
So after some toying around, I knew my chip could do 4.4Ghz, all cores at a slim 1.31v, but was still struggling to get to a 4.5Ghz single core boost on any of the cores even when the motherboard fed it 1.48v. Again, reset optimized defaults, toyed with different settings, and was STILL coming up at a loss.
Then I did this...Set optimized defaults, manually set up the RAM timings, as the the calculator, then instead of leaving the "Performance Enhancer" in the BIOS to "Auto", I set it instead to "Default". I assumed this was the same thing, but discovered it apparently is not.
Then I changed the Precision Boost Overdrive to "Disabled" instead of "Auto"...again, I assumed this was the same thing, but apparently it was not. After trying tons of things, and various different setting, those two settings all the sudden made ALL of my cores boost to the advertised 4.5Ghz at various times, but also allowed 2 of my cores to boost 100-165Mhz over the advertised boost.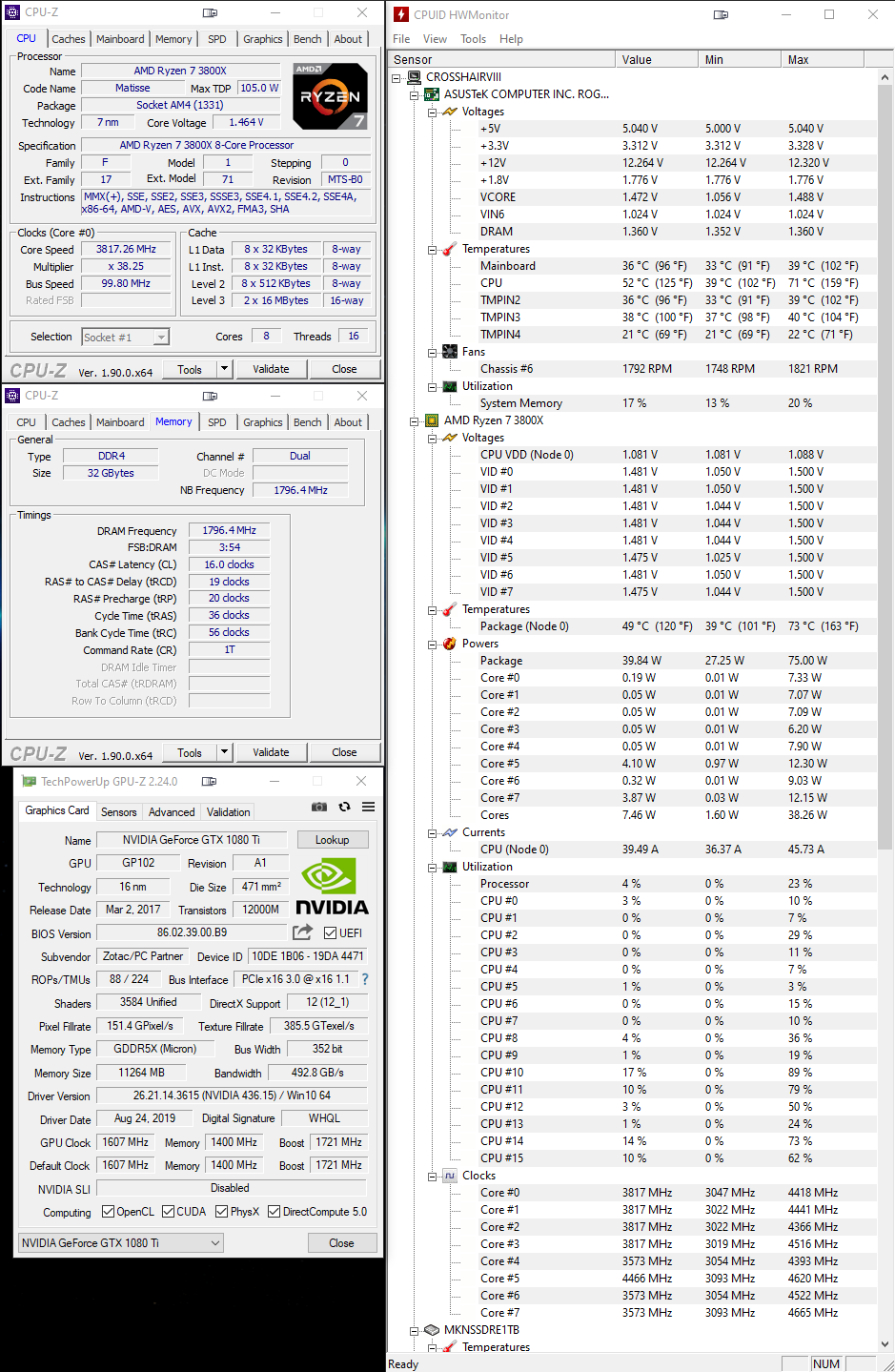 I do not know if this will fix the boost issue for anyone else, but it appears these two setting when left as they are out of the box, alter the boost frequency or behavior in some manner. AS SOON as these were changed, I noticed most of the cores boosting to their advertised speeds or better.
Anyone else with an Asus motherboard and Ryzen 3000 want to give this a shot and see if it works?
JAT