Report an Error
NVIDIA GeForce Go 7400
Graphics Processor

G72

Pixel Shaders

4

Vertex Shaders

3

TMUs

4

ROPs

2

Memory Size

128 MB

Memory Type

GDDR3

Bus Width

64 bit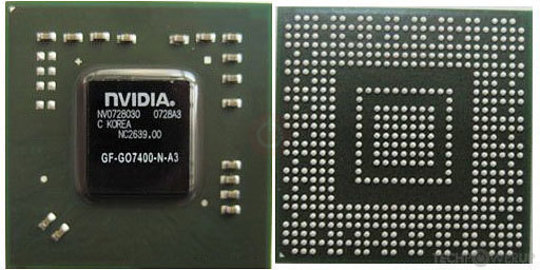 Recommended Gaming Resolutions:
640x480
1280x720
1366x768
1600x900
1920x1080
2560x1440
3840x2160
The GeForce Go 7400 was a mobile graphics chip by NVIDIA, launched in February 2006. Built on the 90 nm process, and based on the G72 graphics processor, in its GF-GO7400-N-A3 variant, the chip supports DirectX 9.0c. Since GeForce Go 7400 does not support DirectX 11 or DirectX 12, it might not be able to run all the latest games. The G72 graphics processor is a relatively small chip with a die area of only 81 mm² and 112 million transistors. It features 4 pixel shaders and 3 vertex shaders, 4 texture mapping units, and 2 ROPs. Due to the lack of unified shaders you will not be able to run recent games at all (which require unified shader/DX10+ support). NVIDIA has paired 128 MB GDDR3 memory with the GeForce Go 7400, which are connected using a 64-bit memory interface. The GPU is operating at a frequency of 450 MHz, memory is running at 450 MHz.
Its power draw is not exactly known. This device has no display connectivity, as it is not designed to have monitors connected to it. Rather it is intended for use in laptop/notebooks and will use the output of the host mobile device. GeForce Go 7400 is connected to the rest of the system using a PCI-Express 1.0 x16 interface.
Mobile Graphics
Release Date

Feb 1st, 2006
Generation

GeForce Go 7
(Go 7000)
Production

End-of-life
Bus Interface

PCIe 1.0 x16
Clock Speeds
GPU Clock

450 MHz
Memory Clock

450 MHz
900 Mbps effective
Memory
Memory Size

128 MB
Memory Type

GDDR3
Memory Bus

64 bit
Bandwidth

7.200 GB/s
Render Config
Pixel Shaders

4
Vertex Shaders

3
TMUs

4
ROPs

2
Theoretical Performance
Pixel Rate

900.0 MPixel/s
Vertex Rate

337.5 MVertices/s
Texture Rate

1.800 GTexel/s
Board Design
TDP

unknown
Outputs

No outputs
Graphics Features
DirectX

9.0c

(9_3)
OpenGL

2.1
OpenCL

N/A
Vulkan

N/A
Shader Model

3.0