News Posts matching "AMD 780E"
Return to Keyword Browsing
AMD today announced immediate availability of two new dual-core, 18W TDP processors for the highly-scalable ASB1 BGA embedded client platform. The AMD Turion Neo X2 processor Model L625 and the AMD Athlon Neo X2 processor Model L325 deliver PC-caliber performance in a very low power envelope and with an embedded-friendly ball grid array (BGA) package.
This embedded client solution is ideal for traditional embedded applications such as single board computing and thin client systems, as well as markets for self-service kiosks, point of sale machines and digital signage. The ball grid array (BGA) package helps alleviate potential reliability issues for systems that are deployed in rugged environments and has a low z-height that is designed to enable thin, compact enclosures.
Albatron Technology Co., LTD., a professional mainboard and graphics card manufacturer, involved in Industry Personal Computer (IPC) area these years. By virtue of sources and experience in the consumer PC market, Albatron developed different products for IPC clients. During Computex Taipei 2009, Albatron unveiled a new product, Albatron K3780E, which combined with System Board and I/O Board. According to customers' demands to adjust I/O interface, SI can apply Albatron K3780E easily on their system with more flexibilities. SemiAccurate.com even praised Albatron K3780E: "Two level mobo wins best of show."
In the diverse IPC industry, Albatron thinks outside the box to provide our clients various options. Unveiled Albatron K3780E shows Albatron's multiple researches and design efforts. As we know customers have their own requests toward I/O interface. If we provide only one solution, it just meets some clients' needs. In addition, restricted by the original design, Albatron will be not able to offer our customers diverse and flexible products.
AMD has taken steps towards providing its next embedded CPUs with the introduction of a core-logic platform that suits its thermal envelopes, while providing the kind of features essential to embedded platforms today. Its direct implementation could be the embedded low-power Athlon single and dual-core processors that could make it to UMPCs, nettops, and the likes.
The embedded processors will come in the ball-grid array package, and a reduced board footprint (package-size). At the heart of this core-logic is the AMD 780E northbridge. It is a reworked 780G chip with reduced thermal footprints. It will provide the CPU with a HyperTransport 3.0 (up to 5.6 GT/s) connection. This northbridge embeds a ATI Radeon HD 3300-class integrated graphics (IGP) which is AMD Sideport-capable. This adds the provision of adding DDR3 memory chips on the board to serve as video-memory. The northbridge provides an A-Link 2.0 connection (PCI-Express 2.0 x4) to the AMD SB7x0 class southbridge. The northbridge also features a native PCI-E multiplex to allow ATI CrossfireX with two PCI-E 2.0 x8 electrical connections. The SB7x0 southbridge provides up to six SATA II channels, 12 USB 2.0 connections, HD Audio, among others.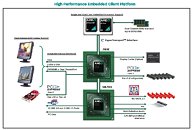 Return to Keyword Browsing